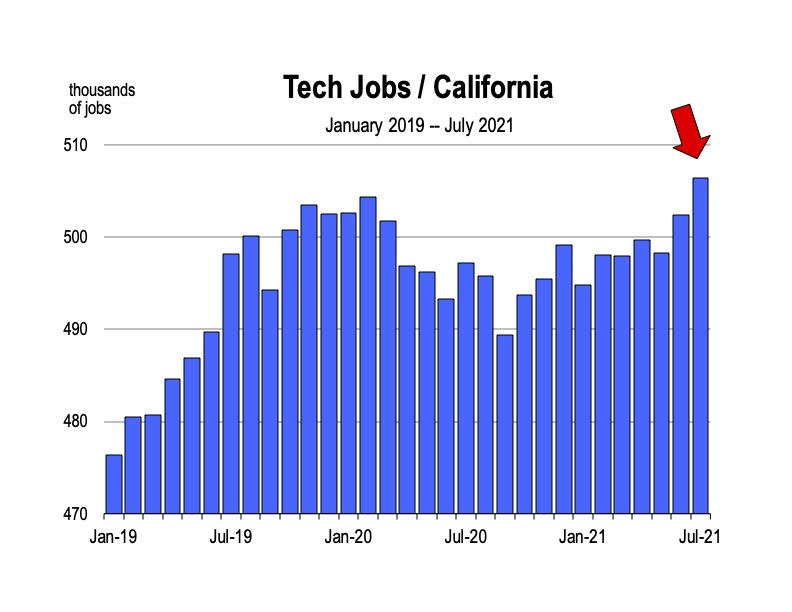 by Mark Schniepp
September 1, 2021
As long as there are variants on the horizon and health professionals recommend vaccinations, boosters, masks, and other precautions, we may be faced with at least a quasi-pandemic environment to contend with. But absent specifics, we can't be sure how they will impact consumer demand, business revenue, or the economy in general.
In the July newsletter, I showed that the data during the first half the year clearly demonstrated a rebounding California economy with strengthening consumer desire for travel. This summer has provided compelling evidence that people are starved for pre-pandemic activities and freedoms, and it seems as though few are holding back.
All sectors of the economy are in recovery, and job restoration will occur broadly. Construction has recovered. Logistics, or the distribution and warehousing sector has more than recovered. The broad based tech sector remains one of the strongest engines of growth. Healthcare jobs and the professional services sector will have entirely recovered by year's end or not long after.
The Economy in the Aftermath of the Pandemic
The impact on the economy of California was more significant than the rest of the nation but the recovery will progress at a faster pace, catching up to the U.S. by 2023.
However, tourism based economies will take longer to recover, so the coastal communities are certainly lagging, despite the flurry of tourism throughout the region this summer.
In the Tri-Counties, San Luis Obispo County was hit harder than Santa Barbara or Ventura and is not recovering as fast.
Any further business interruptions or capacity limitations due to future variants will be extremely detrimental to business owners, and a growing backlash sentiment is likely to ensue.
That said, a change in the environment of Sacramento may provide a new sense of optimism to Californians in view of the resentment which sparked the recall effort.
The pace of recovery is expected to hasten once pandemic related limitations are lifted and international tourism is allowed to resume in California again.
Longer term structural changes as a result of the pandemic will be fewer and much less dramatic than the hyped expectations of meaningful changes in the way we will work again, proclaimed by many sources during the pandemic.
The Great Resignation is principally due to the tightness of the labor market and is only marginally exacerbated by the work-from-home mandates that created a new lifestyle for workers during the pandemic, to which they have assimilated. The tightness of the labor market is clearly demonstrated by the record numbers of job openings that now exist.
The Workplace in the Aftermath of the Pandemic
The Great Resignation
The number of workers who quit their jobs reached an all time high this past spring. Why?
But as workers now face the possibility that their employer cannot provide all of their new demands in a post-Covid world, they are seeking alternative jobs where management offers more flexibility.
Consequently, employers now face more employee turnover and will have to make more concessions to maintain key workers. Unfilled positions may have to be tolerated for some time. Hence the dearth of workers we are now seeing in the restaurant and retail sectors.
But is the Great Resignation part of a structural change that will endure regardless of where we are in the business cycle? I don't think so. This situation is likely to change if the labor market loosens up. This can occur as more workers return to the labor force as the pandemic fades, as generation Z college and university graduates start hitting the job market, or if economic growth were to slow. We are not forecasting a slow patch anytime soon but we do expect an expanding labor force.
Remote work and virtual meetings will continue
Virtual meetings are both time and cost saving for business. Videoconferencing during the pandemic has ushered in a new acceptance of virtual meetings. This means reduced spending on transportation, lodging, conference rooms, other meeting rooms and meals. This might also translate into smaller sized office suites. We can't yet predict how material this might be but it's likely to be transitory. Nevertheless these changes are going to persist through 2022.
Longer term, most workers will return to the office
Most hybrid work plans call for employees to be in the office two to three days a week, yet this is unlikely to be practical for those who moved more than 50 miles away. Employers with headquarters and offices in major cities will need to decide if they will allow employees who relocated to work remotely on a permanent basis.3 Some will and have anticipated that when hiring employees living in other states. Most however will not.
With more remote working there will be fewer opportunities to collaborate in-person
Many organizations will encourage employees to take e-learning courses to maintain training and development. E-learning and virtual training opportunities are more prevalent now for the workplace.
There will be a shift towards a more collaborative workplace as employees seek social interaction and community engagement
Whereas before the pandemic, some employees preferred to work in isolation in the office. Now, remote workers coming to the office will use their workplace to meet colleagues, brainstorm, and have social gatherings. Through these interactions, employees visiting the office will be in a work environment that fosters collaboration, creativity, and innovation.
---
1 In Jaunary 2021 a majority of US workers surveyed by the US Gallup Poll said they worked remotely all or part of the time during the pandemic. https://news.gallup.com/poll/329501/majority-workers-continue-punch-virtually.aspx The majority of workers in the survey also responded that they prefer to work remotely once all restrictions are lifted.
2 Surveys report that between 40 and 58 percent of employees would quit if required to return to the office. See https://www.businessinsider.com/quit-job-flexible-remote-working-from-home-return-to-office-2021-6, and https://www.fi-magazine.com/364584/survey-finds-58-of-people-working-remotely-would-quit-their-jobs-if-required-to-return-to-office
3 From the Gallup poll conducted in late January 2021, just 23 percent of workers who always or sometimes work remotely desired to continue to work remote longer term. There does appear to be an acknowledgement that the same remote work opportunity enabled today may not persist indefinitely.
The California Economic Forecast is an economic consulting firm that produces commentary and analysis on the U.S. and California economies. The firm specializes in economic forecasts and economic impact studies, and is available to make timely, compelling, informative and entertaining economic presentations to large or small groups.