By Mark Schniepp
October 5, 2022
Continued from last month . . . .
Residential development this year is occurring at a pace that will generate the largest volume of homes started since 2006.  The value of commercial and industrial structures started in 2022 is the highest on record.
Why?  Many of the units that have been authorized through the permitting process of municipalities are ADUs, or accessory dwelling units. We call these granny flats, because they are akin to the old 1,200 square foot back yard cottage that grandma used to stay in.
The surge in granny flat development has come about principally due to a bill in the California assembly that was signed into law a year ago. It enabled ADUs to go forward anywhere in California without much red tape.1
Non-residential construction is sharply higher due to new industrial product, new parking, retail, hospital and hotel projects, and a boom in infrastructure projects.
Development is occurring in all major regions throughout the state, and in particular, the dense metro areas of Los Angeles, Oakland, San Francisco, Sacramento, the Inland Empire, and the Central Valley.
Last month, I presented a summary of some of the highest profile projects in Southern California. This month, I'm directing attention to the Bay Area, the Central Valley, and the Sacramento Valley.
Prominent Development Projects
Bay Area
The Oakland Athletics are currently proposing a brand new ballpark and adjacent mixed-use development. The new park would house 35,000 spectators and the surrounding development would include 1.8 million square feet 3,000 residential units and a 400-room hotel.  The city desperately wants this project after having lost the Raiders to Las Vegas.
SF Candlestick and Hunters (12,000 and 2.5 million commercial square feet)
The redevelopment of Candlestick Point, once home to the San Francisco Giants and 49ers, will include 7,218 homes along with 750,000 square feet of office and research space, 300,000 square feet of retail space, a hotel, and a film and arts center. The first phase of the project — 1,600 — units is approved along with office and retail space.
The Hunters Point Shipyard project is adjacent to Candlestick Point.  The two projects are integrated and designed for a total of 12,000 residential units, 2.5 million square feet of commercial space, and 1 million square feet of retail/entertainment space.
Kilroy Oyster Point is a large non-residential development up for lease and under construction in South San Francisco. The development includes 50 acres, 1 Waterfront Campus, 3 million square feet, and 12 buildings.
The project consists of 4 phases with phase 1 now completed and 100% leased. Phase 2 is currently up for lease. Phase 3 and 4 are scheduled to be completed in 2028.
San Jose approved the largest development project in its history last year. The project was proposed by Google and encompasses 80 acres near Diridon Station in downtown San Jose. The project is commonly called Google's Downtown West project.
The plans for Google's Downtown West project involve 7.3 million square feet of office space, 4,000 residential units, 15 acres of parks, 500,000 square feet of active use, and 100,000 square feet of event space and hotel use. 25 percent of the 4,000 housing units are planned to be affordable housing.
Construction is planned to start in 2023 and the project will be completed in phases with full development finished in 2032.
Central Valley
Proposed projects are abundant in the region. Developers are anticipating the completion of the bullet train by 2030 with large housing projects that will accommodate the expected surge in population growth.
The approved 2022-2023 California state budget directs $4.2 billion in bond funding to the High Speed Rail project, specifically the Bakersfield-to-Merced segment.  The San Jose-to-Merced leg was approved by the High Speed Rail Authority in April. The latter is not expected to be completed until 2031.
Right now, the Bakersfield-to-Merced segment is fully underway, and the San Jose-to-Merced leg is in planning. The bullet train project employs approximately 1,000 workers daily in Madera, Fresno, and Bakersfield Counties.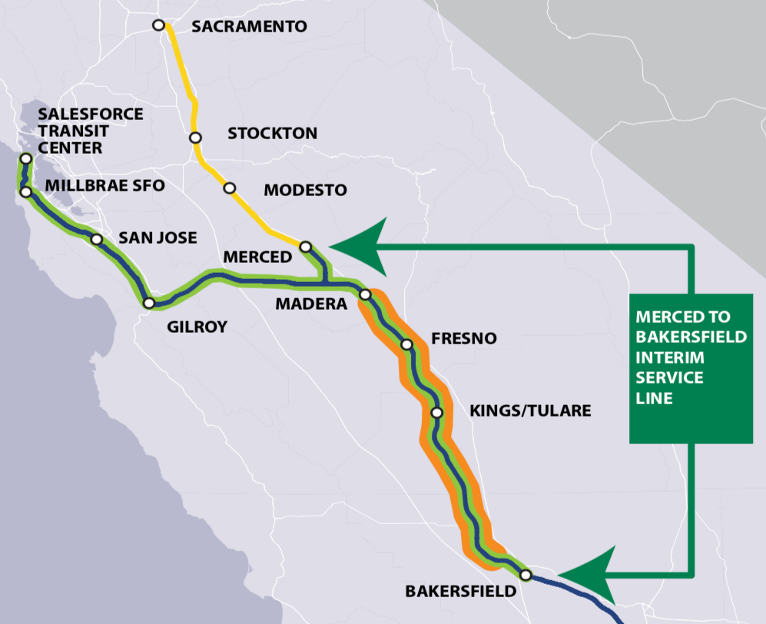 In early 2022, plans to develop the southeast area of Fresno through 2050 were formally submitted.  An Environmental Impact Report will soon be in preparation. The 9,000 acre area can accommodate 45,000 homes and create 37,000 jobs.
UC Merced has plans to double its student enrollment to 15,000 by 2030. University Vista located in the City of Merced's Sphere of Influence is a mixed use project to build 4,200 units (including student housing), and 788,000 square feet of stores, entertainment, hotels, restaurants, office and R&D space.
The residential largest project in California is located in Madera County called Rio Mesa. This is a massive development near Highway 41 and the Fresno County border.
The Project contains 33,000 homes and can potentially accommodate 120,000 residents. The two biggest projects underway at the project site are Tesoro Viejo and Riverstone. Full buildout is not expected for approximately 30 years.
Near Edwards AFB in Eastern Kern County, the largest Solar battery storage project in the world is underway. The project will power 158,000 homes when completed. In the last 3 years, several large solar farm projects located in Eastern Kern County have commenced operation, with the capacity to power over one million homes.
The Grapevine project will begin construction this year in Southern Kern County. The mixed use development has 12,000 homes and 5 million square feet of office, industrial and retail space.
Sacramento Valley
This region is right behind the Central Valley in the extent of housing units that are planned. And substantial construction is currently underway in Sacramento, Placer, and El Dorado Counties.
The Richards Boulevard Office Complex in Sacramento's River District is a $1 billion 1.25 million square foot ongoing project with four high-performance, collaborative, and interconnected office buildings. The Complex began construction in 2020 and is scheduled to be finished in March 2024.
The downtown Sacramento development scene is especially active. There are currently 26 development projects under construction and even more proposed.  Much of the development underway or proposed is apartments.  Even a world-class 15,000 seat Major League Soccer Stadium has been announced as part of the new vision for the area
Greenbriar is a proposed project currently seeking approval that will develop 3,000 homes , schools, a light rail station, and commercial buildings near the Sacramento Airport. Phase 1 (1,350 homes) is approved and is about to commence, and Phase 2 is awaiting approval.
Placer Vineyards is located in the southwestern most portion of Placer County. The specific plan calls for the development of 14,132 homes.  Phase 1 is under construction with up to 5,266 housing units.
Just northeast of Placer Vineyards is the Sierra Vista Specific Plan that was annexed into the City of Roseville. The plan includes 8,700 single family homes and apartments that are expected to accommodate a new population of 20,045 residents.
Just over 5,200 residential units and over 7 million square feet of commercial development  called the Bridge District is now envisioned along the West Sacramento side of the Sacramento River.
In El Dorado County, there are five very large specific plan projects in planning that propose the development of 7,000 homes.
---
1 AB345. The law passed on September 28, 2021 authorizes local agencies to allow ADUs to be developed in single family or multi-family residential neighborhoods with only ministerial approval.
The California Economic Forecast is an economic consulting firm that produces commentary and analysis on the U.S. and California economies. The firm specializes in economic forecasts and economic impact studies, and is available to make timely, compelling, informative and entertaining economic presentations to large or small groups.