by Mark Schniepp
April 2017
Consumer Confidence Jumped Sharply in March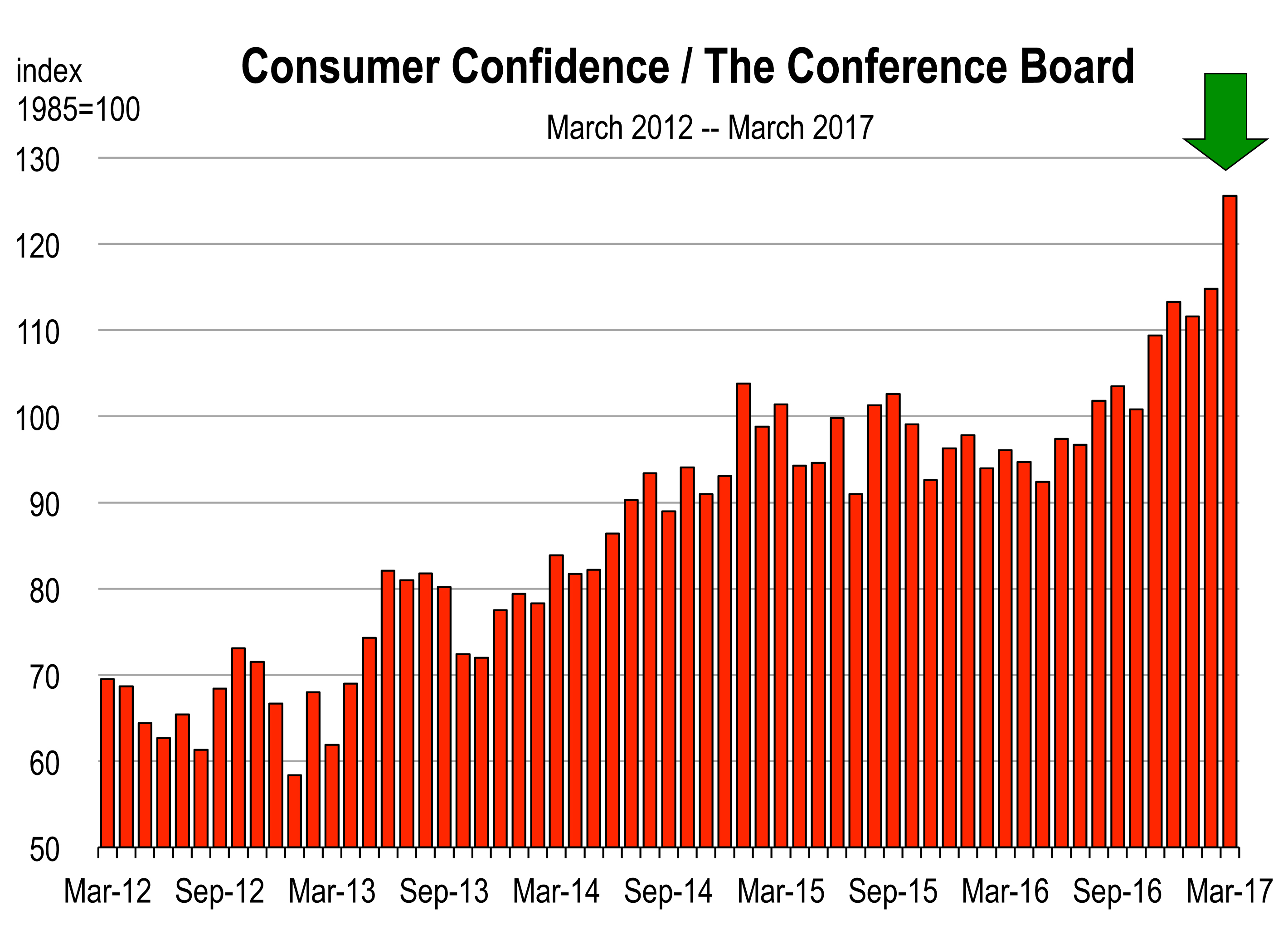 This was a biggie. Confidence SOARED in March. We are now at the highest reading of consumer confidence in the economy since 2000. The highest in 17 long years.
The continued strength in consumer sentiment has been due to optimistic views on three critical components: (1) higher incomes and wealth, (2) more favorable job prospects, and (3) low inflation expectations.
And of course, the stock market is at or near record highs and home prices have rebounded sharply and have eclipsed the previous real estate bubble peaks of 2006 in many U.S. markets
Certainly enough, we are in a full employment economy, wages are now rising more than 3 percent year over year, and inflation remains well under 3 percent.
The Labor Market appears to be in the best condition in a generation: the unemployment rate fell to 4.5 percent and 98,000 more jobs were created in March.
And I'm going to get comments from all the naysayers who point to the U-6 unemployment rate or the labor force p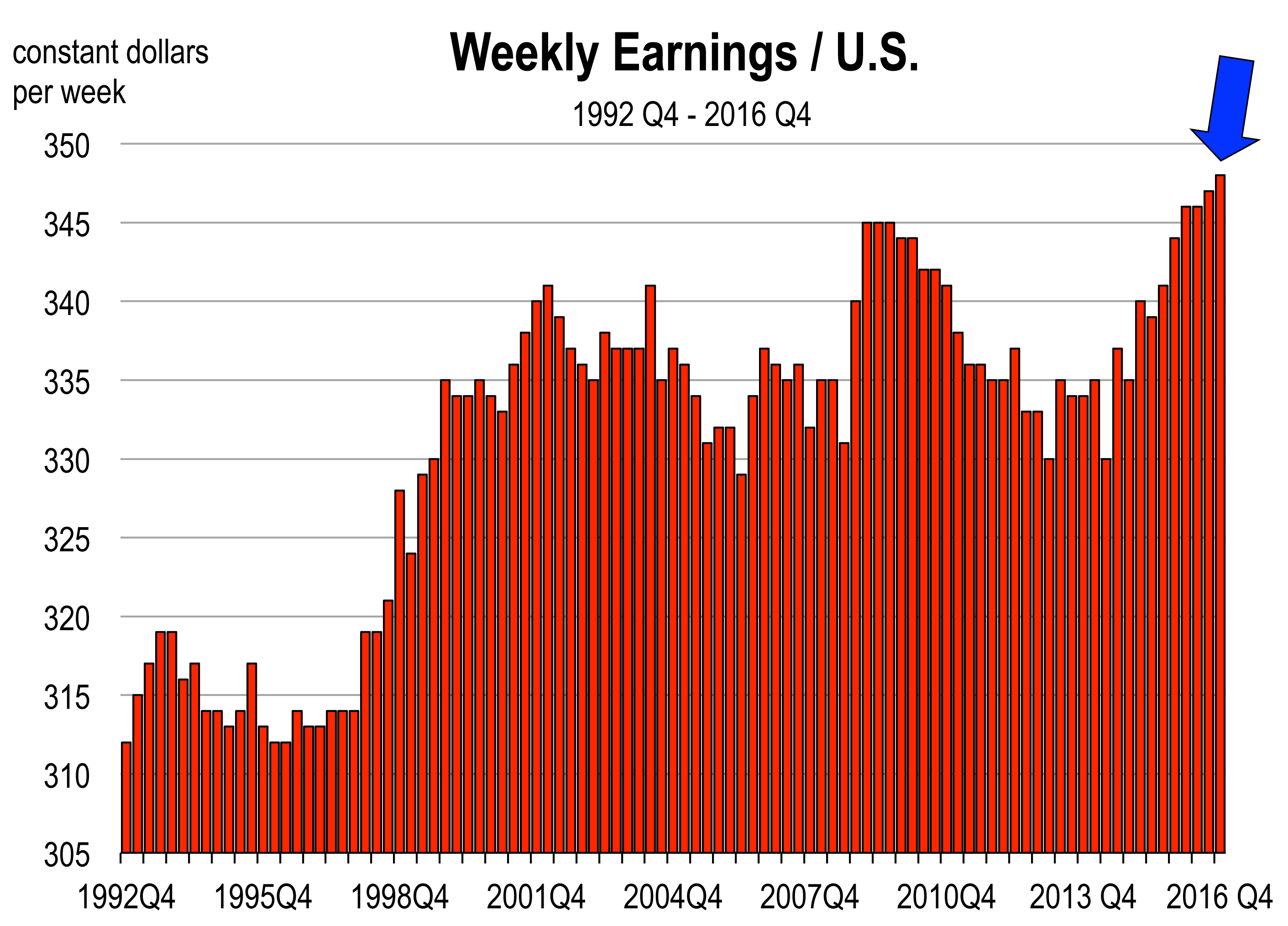 articipation rate and pessimistically but erroneously site the high rate of discouraged workers in the economy because as they will claim: job prospects are not that great.
This is bull.
While SOME people cannot find employment in their IDEAL job, or their career job, it's partly because time and/or technology has passed them by. We no longer manufacture or mine certain products anymore. And technology has eliminated many positions, even skilled ones.
When we think of the discouraged worker, what comes to mind is the image of a 56 year old man with obsolete skills who used to make $120,000 in 2007 and now is employed part time at a $65,000 salary or, has dropped completely out of the labor force.
But this vision or anything like it is unsupported by real data.
The 55 and over age group in the labor force happens to be the ONLY age group that has actually increased their workforce participation rate since 2007. This age group is more employed than ever, since records have been kept.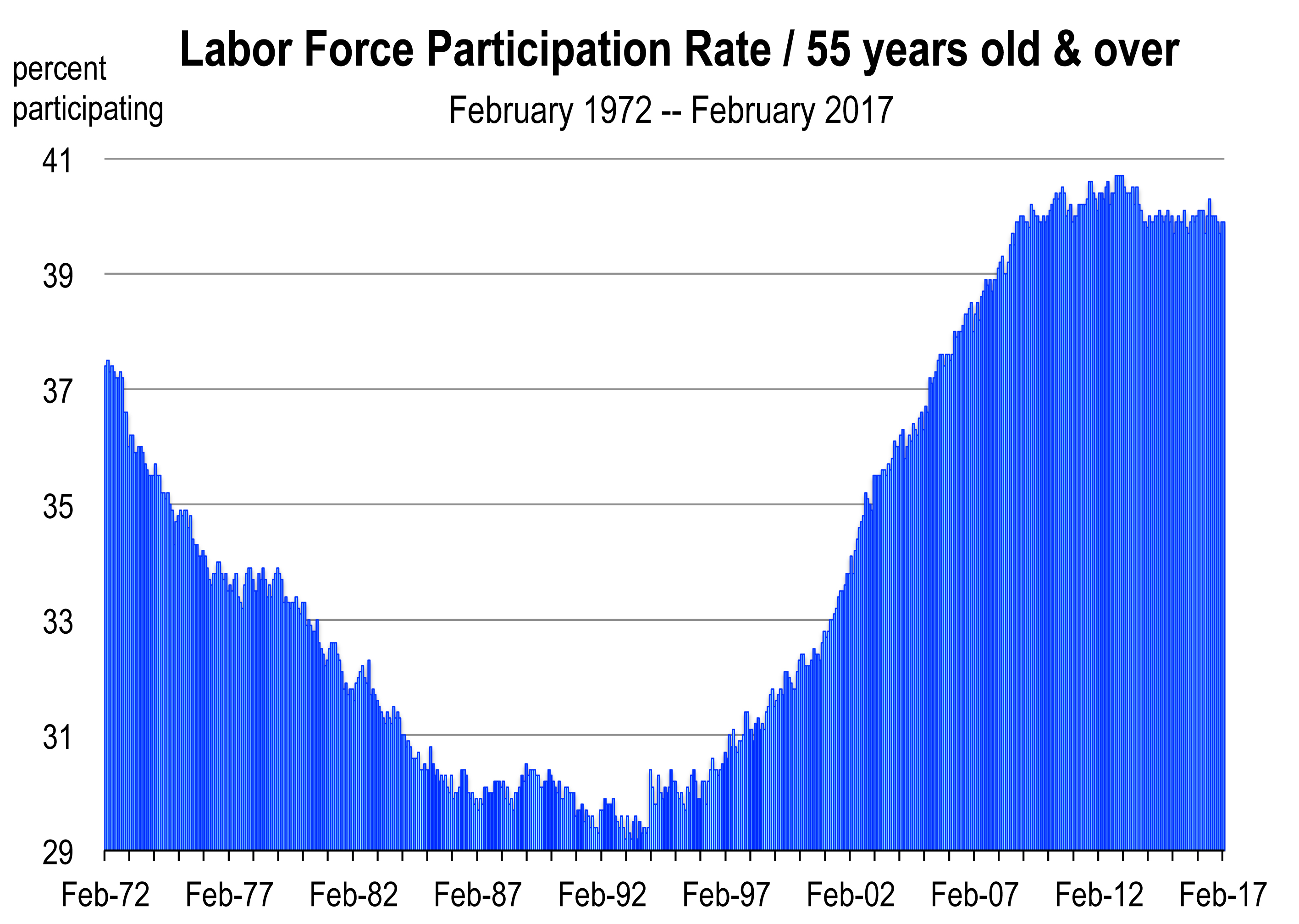 It's the millennial generation that is having the more difficult time obtaining employment, and this is only true if they have not adequately prepared with a college degree or a skill that is needed in today's workforce.
There are millions of job openings right now that are unfilled. The unemployment rate is full, wages are rising, and consumers are generally quite optimistic about their economic prospects over the next 6 months.
Your Plan for the Rest of 2017
Because you are fully employed, your income is rising, and you feel so confident about the economy, you need to plan the rest of your year out accordingly:
Travel. The exchange rate is just too favorable to pass up this opportunity. Asia, Mexico, or Europe. They're cheap. Choose today and go.
Ask your employer for a raise. Skilled labor is in short supply. If you have any skills, you'll be considered nearly indispensable and given a raise. If not, you'll be fired. Here's where you find out. Good luck.
Buy a car. Dealer incentives are everywhere. And gas is cheap. Pull the trigger. You deserve an upgrade. Check the deals at Costco first.
Rebalance you portfolio. The equity markets are at or close to all time highs. If you haven't made any changes to your portfolio in the last year or 18 months, your asset allocation has likely changed so it deserves some new attention. Investors who periodically rebalance their portfolios get better returns than those who don't.
---
Next Conference: Understanding Market Disruptors
The Business Environment is Changing. Be Prepared.

In June we are presenting the first annual 2017 Entrepreneur Economic Forecast Conference for Los Angeles.
Skirball Cultural Center
7:30 AM to 10:45 AM
June 1, 2017
Get Event Info Register Now Sponsor This Event
The California Economic Forecast is an economic consulting firm that produces commentary and analysis on the U.S. and California economies. The firm specializes in economic forecasts and economic impact studies, and is available to make timely, compelling, informative and entertaining economic presentations to large or small groups.