by Mark Schniepp
May 5, 2021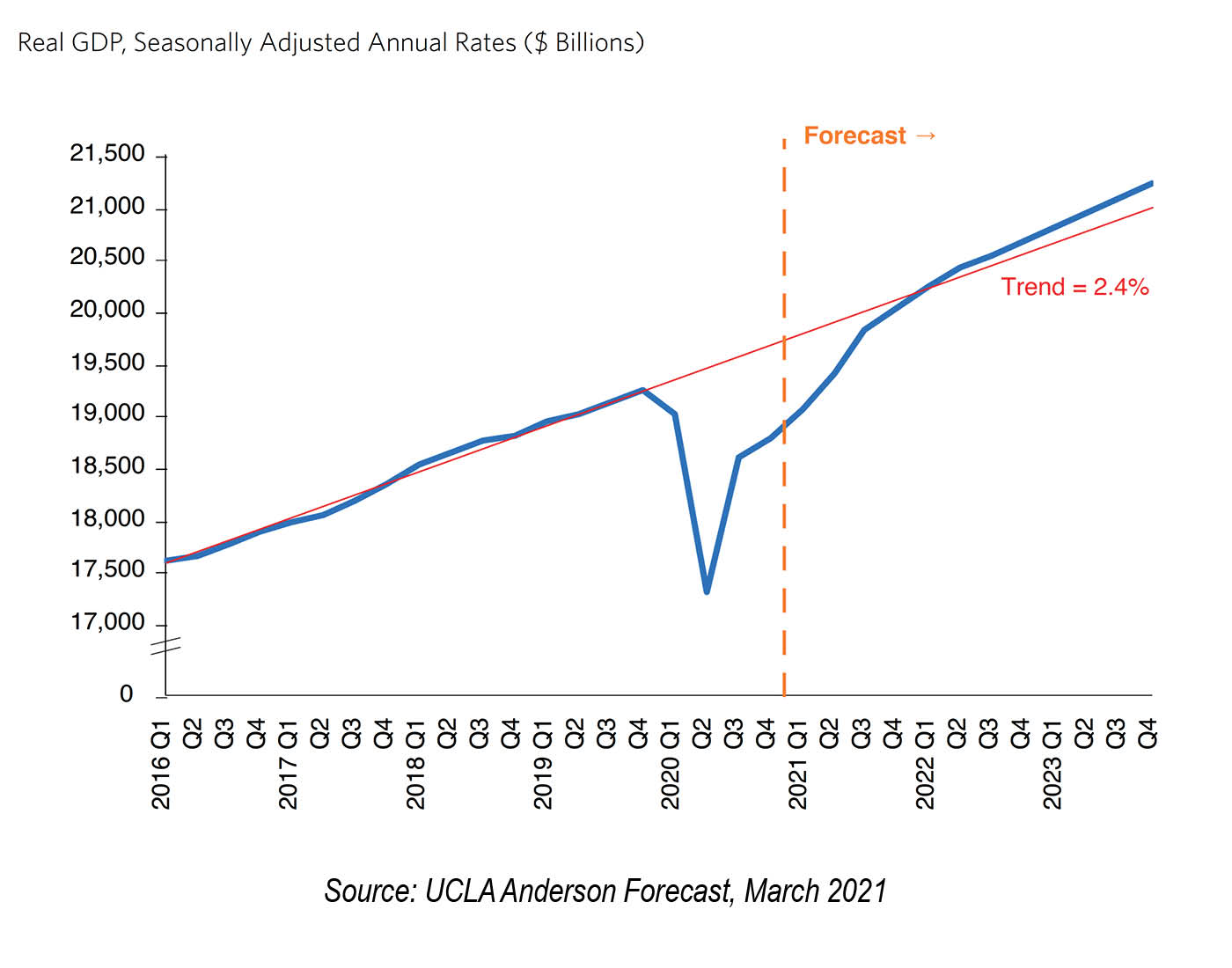 Early spring and it's all good news at this point. Though the improvement in the U.S. economy this year was expected, the actual levels of growth are better than anticipated.
Here is just some of the recent evidence that I'm looking at that is quite stunning:
Recent Evidence: U.S. Economy / May 2021
Fiscal stimulus in March generated the largest increase in personal income on record
Consumer spending soared in March, rising nearly 4 percent
First Quarter GDP surged 6.4 percent
April 2021 auto sales is the strongest April in the history of the U.S. auto market
The labor markets are roaring back, especially in the wide-open states
Manufacturing production and inventories have risen sharply this year
The housing market has barely cooled, and selling values keep soaring
The March 2021 median price was 17.2 percent higher than in March 2020
Vaccination rates have ramped up as supply becomes more available
Spending would have been higher if not limited by pandemic obstructed spending on services.  Therefore, as limitations ease on close human contact businesses that provide services, higher rates of spending are likely this year, and this will translate into a meaningful boost to economic growth.
The pace of vaccinations has accelerated; everyone 16 and older is eligible to receive the vaccination at any time. Herd immunity is expected in August of this year.
Economic growth was impressive in the first quarter of 2021, but we look for a higher pace in quarters 2 and 3 as mass vaccinations continue and business restrictions are abolished.
Real GDP will reach its 2019 peak by the end of this quarter (2021 Q2) and be back to its prior (2019) trend by 2022 Q1.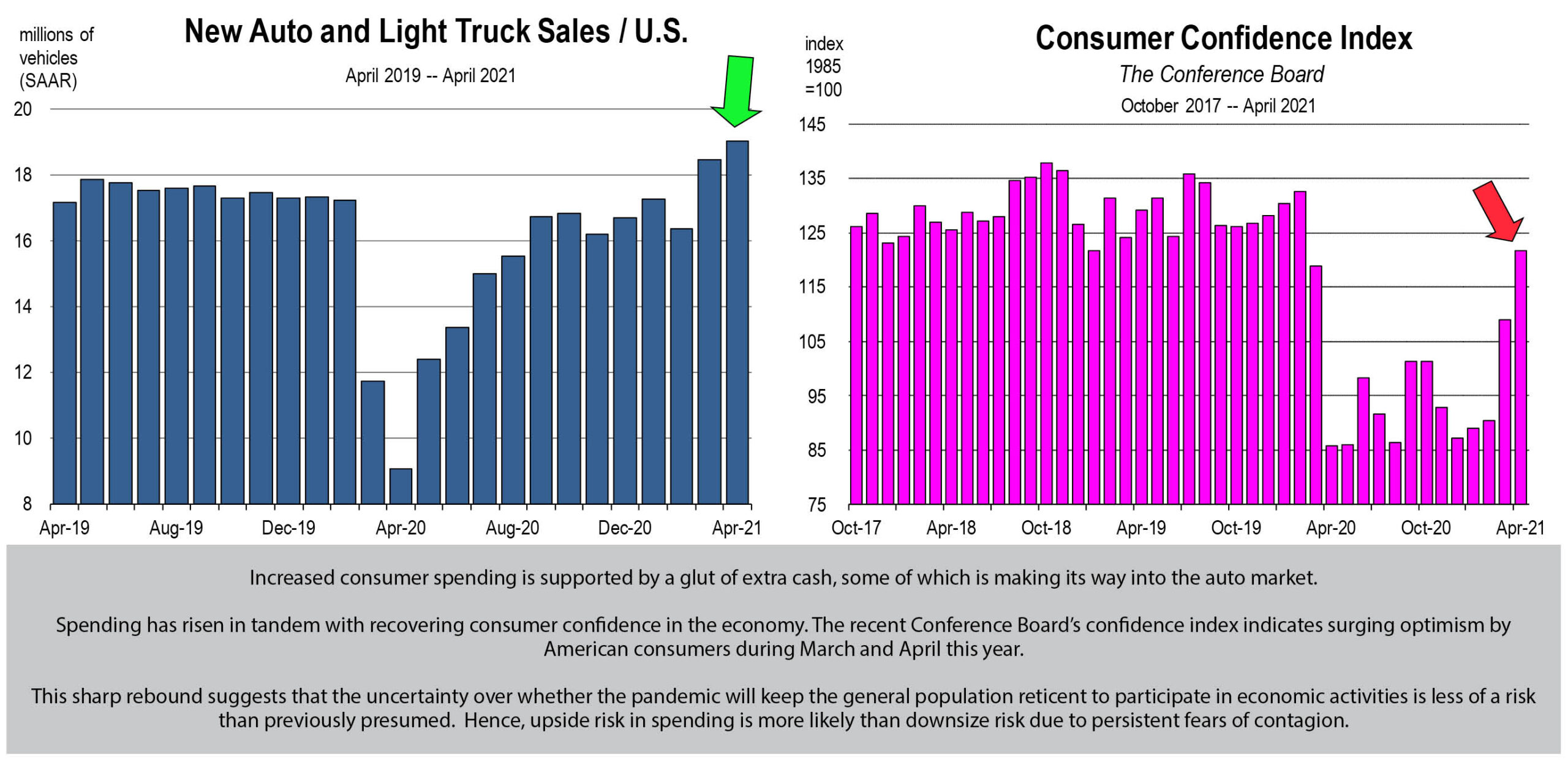 California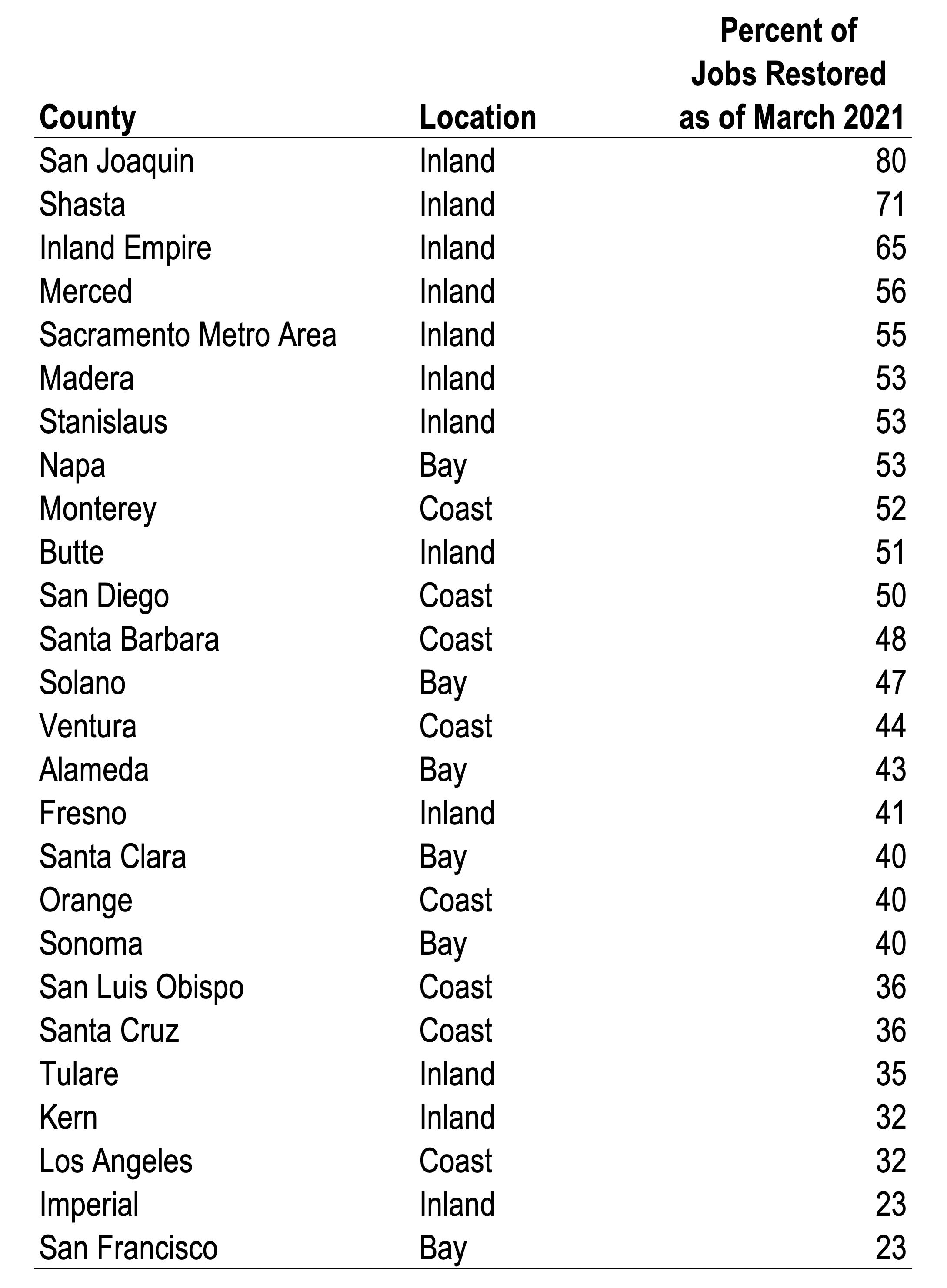 Through April 2021, the recovery is geographically uneven across the state, with inland counties reinstating their workforces faster than coastal counties or the Bay Area.
Some of these inland counties will recover all of their pandemic losses by year's end.
Counties benefitting largely from tourism – Orange, Los Angeles, San Francisco, Monterey, Sonoma, Napa, and Santa Cruz are dead last in March 2021 job growth, year over year, among all counties in California. Regarding the labor market recovery from the pandemic job loss, the inland counties are clearly dominating the coastal economies.
This tells me that when tourist attractions are open again and at some reasonable capacity levels, there will be rapid catch-up by the laggard counties. Furthermore, if air travel capacity loads and number of flights start rising more convincingly, you can expect coastal county economic growth to accelerate.
For the time being however, the inland counties in California generally have a head start on restoration of their regional economies.
Two major points in time this year should result in a surge of job creation:
In June when most restrictions are eased by the Governor's office, and
In the fall when K-12 schools resume in-person full-time.
Consequently, a spike in job creation is forecast this year and next, and many inland counties will recover all pandemic-lost jobs by no later than mid 2022.
The largest ongoing issue for the Central Valley economies that became acutely more clear during the pandemic is their competitive locational advantage for distribution centers by the largest warehousing giants in the country.  Most of these firms like Amazon, Wal Mart, Costco, Safeway, Home Depot, and Sysco benefitted from the extraordinary online demand as a consequence of the pandemic restrictions in California on retail store access. They substantially increased their workforces, and realized strong increases in revenue during 2020.
Travel and public gatherings still uncertain and still restricted
We still don't know about travel conditions around the world. Many countries have opened up and are welcoming U.S. visitors without the 14 day quarantine. But not everywhere. Cruise ship travel is still off the table.
Large public gatherings are conditionally enabled now in most California counties. Hopefully this will change by June. You have to be vaccinated to attend a 200 person indoor conference. And no more than 200 people allowed.
When conditions regarding travel destinations are more clear, large events like Stagecoach or Coachella are rescheduled, and Disneyland increases its capacity beyond 35 percent and can accommodate international visitors, we will see more upside to employment growth, if recalcitrant workers are willing to rejoin the labor force.  As the expansion in unemployment benefits ends in September, another surge in job creation will be likely.
We look forward to June
In June, if all goes well, the Blueprint regimen is abolished.  We're all not sure what this means exactly, but all restrictions might disappear, as they have in Texas, Florida, Utah, Tennessee, Georgia, Missouri, the Dakotas, Mississippi, Louisiana, and more. Pennsylvania opens up entirely on Memorial Day and Virginia on June 15.
Residential Real Estate
Selling values are not likely to maintain their torrid pace of appreciation for much longer this year. To date however, sales data through March show no signs of faltering selling values in the U.S. or in California.  The median price for existing homes was up 17.2 percent in March for the nation, and 19.7 percent for California single family homes.
Sales of existing homes have cooled slightly in the nation, but are sharply higher this year in California.  For the first three months of the year, sales are at their highest levels since 2009.
I have no bad news to report in this month's newsletter. The reports show nearly all conditions looking not only better, but much better than predicted.

The California Economic Forecast is an economic consulting firm that produces commentary and analysis on the U.S. and California economies. The firm specializes in economic forecasts and economic impact studies, and is available to make timely, compelling, informative and entertaining economic presentations to large or small groups.