Mark Schniepp
March 3, 2023
Layoffs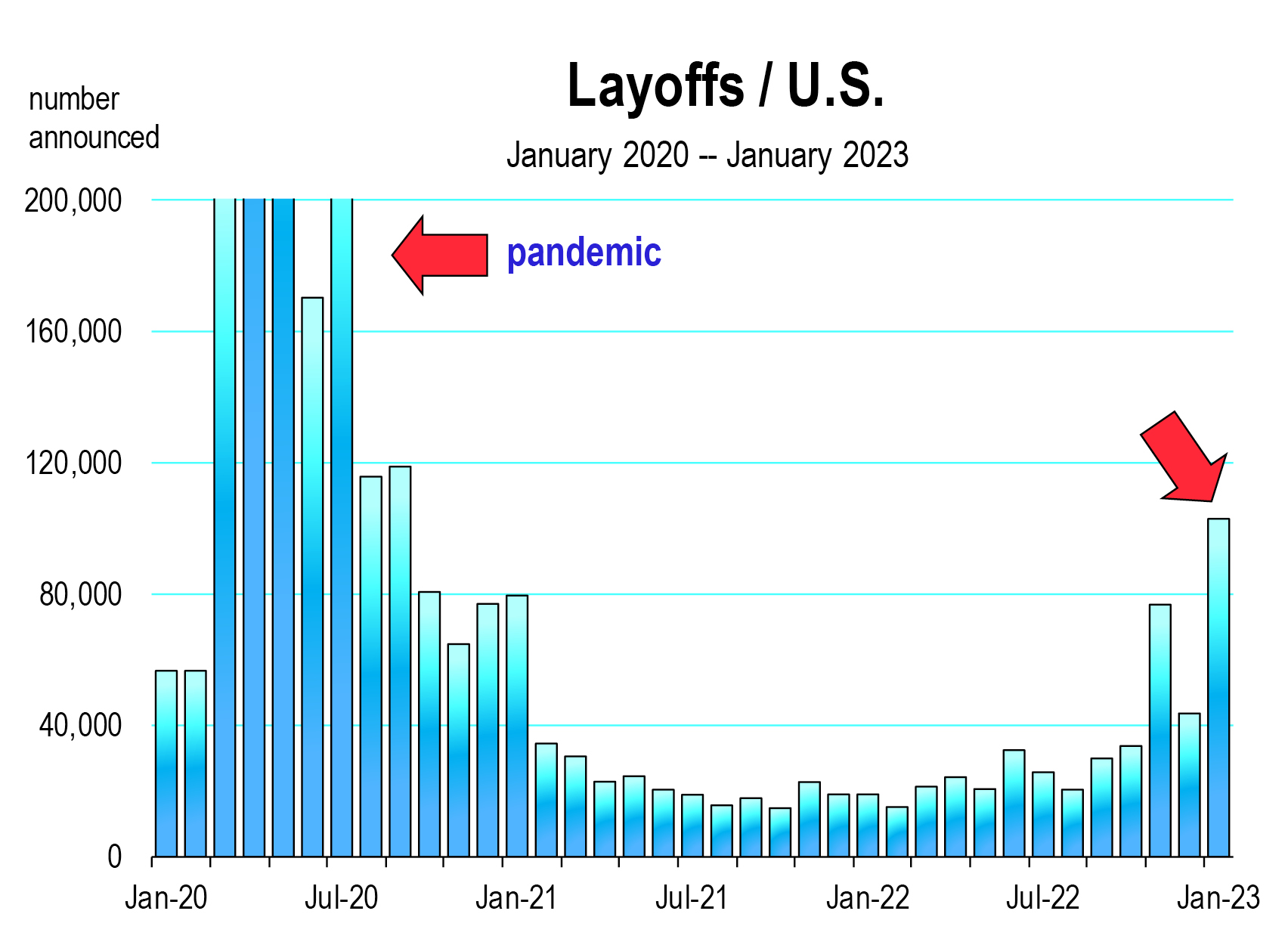 Job cut announcements from U.S.-based employers surged to start the new year, hitting the highest January total since 2009. Job cut announcements in the first month of 2023 totaled 103,000, a worrisome 136 percent from the volume of cuts announced in December.1 The number of technology company layoffs accounted for 41 percent of the January total, representing the lion's share of announced job cuts.
The website Layoffs.fyi tracks the announced layoffs by companies world wide since the onset of the pandemic in 2020.  During 2022, the site reported 1,046 tech company announcements totaling 161,061 layoffs. For January and February 2023, total announcements from 411 tech companies report 118,726 layoffs. This shows that the pace has exponentially accelerated.
These signs clearly signal a weakening job market at the end of 2022 and certainly in 2023.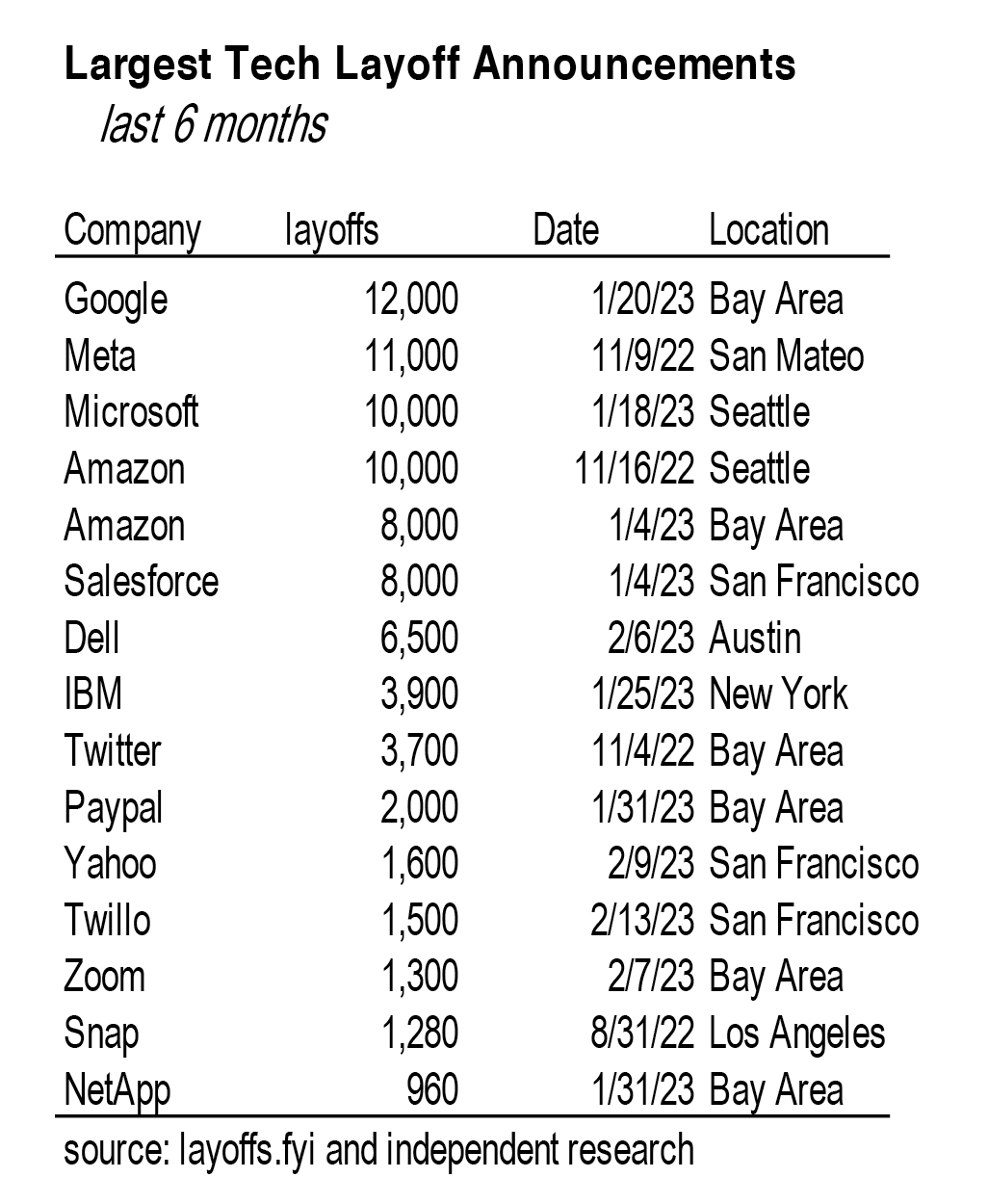 However
U.S. claims for unemployment insurance declined again, in the 3 weeks ending February 11, 18, and 25. The level is below 200,000. The average weekly level since 2010 and excluding the pandemic is 256,000. Claims are providing us no indication that the labor market, seemingly traumatized by the unrelenting surge of layoff announcements since the Spring of 2022, is actually weakening.
The unemployment rate fell to 3.4 percent in January—the lowest level since 1969—also giving us no indication that the layoffs are resulting in unemployed workers.
Furthermore, unfilled job openings rose in January to over 11 million again. The help wanted adds online are also near their all-time highs in numbers. Although it is so much easier for employers to post job openings today versus 3 or more years ago, which makes this data series comparatively less reliable, the levels are still an indication of an extremely tight labor market.
If the traditional labor market indicators are all signaling a fully employed labor force, then labor resources are not idle and therefore unused, normally a requirement for recession. It is true that unemployment is a lagging indicator and not one that I would use to predict a recession. But to have a recession, we need rising unemployment, and we don't see any of that yet.
Then what about the layoffs?  Why aren't we seeing them in the data ?  Why aren't laid off workers claiming unemployment benefits?  Why isn't the unemployment rate rising ?
The health of the Labor market is not in doubt. While unemployment claims can turn on a dime, why haven't they as layoffs have been piling up over the last 6 months ?

Answers
The data support two answers.
It is likely that laid off employees are getting rehired rapidly, avoiding the need to claim unemployment benefits and avoiding the unemployment rate. When the job openings data is factored in, which indicates that the need for employers to fill jobs remains near record levels, and the number of monthly hires is still north of 6 million, then absorption by companies of laid off workers is the most probable explanation.
The number of new business formations remains at very high levels, month after month. And this has been the story since the pandemic. Business formations in California are running over 40,000 per month since mid-2020. Prior to 2018, they never eclipsed 30,000 averaging 25,000 per month since 2006.  Business formations require employees and laid off workers are often absorbed by start-ups, or they become gig workers who contract to new business start-ups.
The big story that we will continue to monitor is whether the unrelenting layoff announcements will ultimately translate into higher jobless claims and a higher unemployment rate. To date, we don't see it.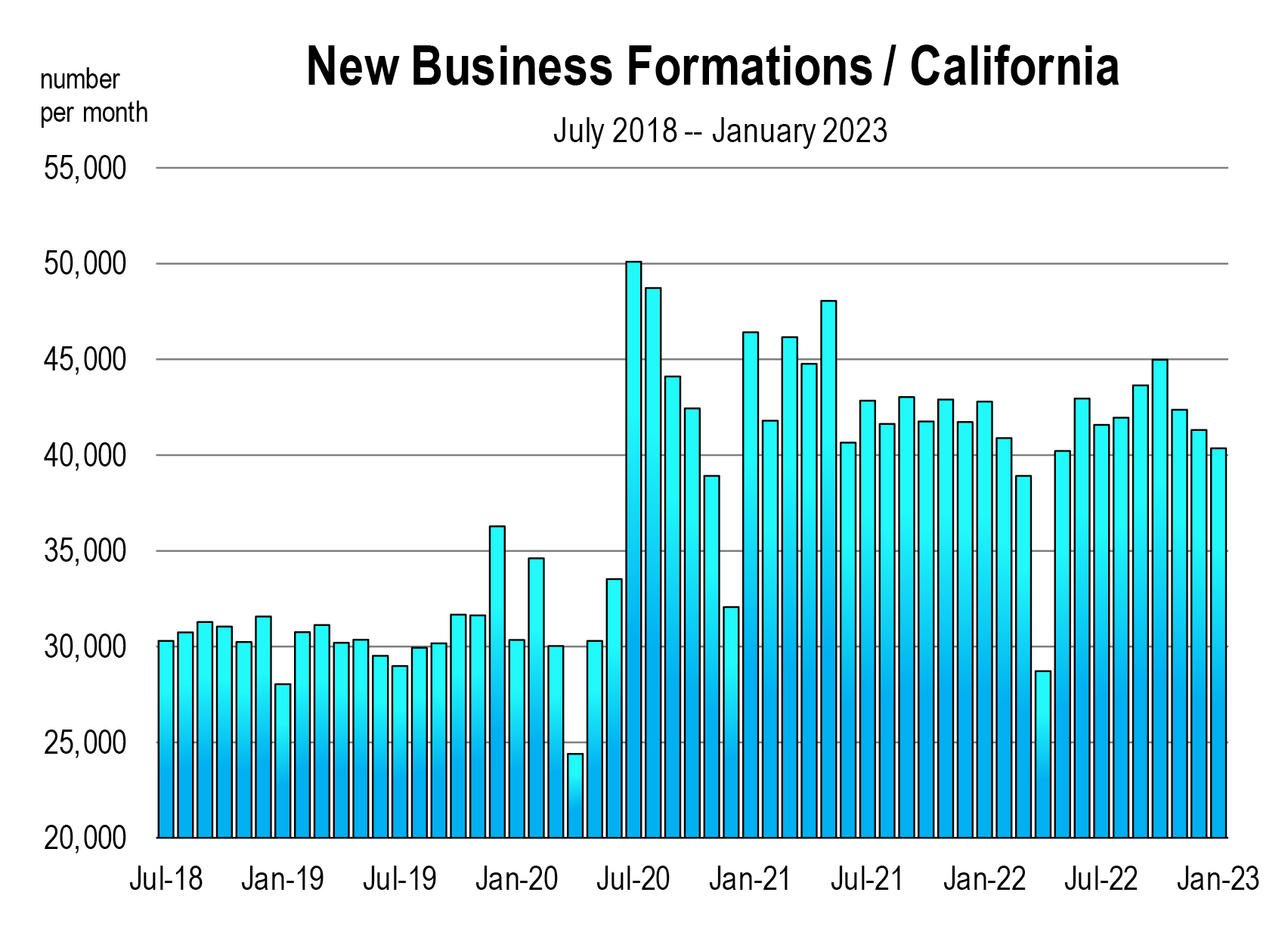 ---
1 These reports come from Challenger, Gray and Christmas who have been tracking U.S. company layoffs and hires for 50 years.
---
The California Economic Forecast is an economic consulting firm that produces commentary and analysis on the U.S. and California economies. The firm specializes in economic forecasts and economic impact studies, and is available to make timely, compelling, informative and entertaining economic presentations to large or small groups.