by Mark Schniepp
January 2019
Growth Was Strong in 2018
Nothing much fazed the economy in 2018. The wild oscillations in the stock market, the trade war with China, the California fires, or the midterm elections. The economy remained strong all year long.
The fiscal stimulus in the form of tax cuts played out as the principal factor for the solid economy in 2018.
The California economy created 347,000 jobs last year, and the unemployment rate fell to the lowest level in 40 years.
We are now in month 114 of the economic expansion and bearing down on the previous record of 120 expanding months from March 1991 to March 2001. I have little doubt that the current expansion will soon be the longest on record.
The S&P closed down 6.2 percent for the year. But because everybody is working and incomes are rising, consumer confidence remained high despite a roller coaster stock market.

2019
Employment opportunities won't be the same this year as last, not because of weaker demand for workers from employers, but because employers won't be able to find workers to fill the increasing number of unfilled positions.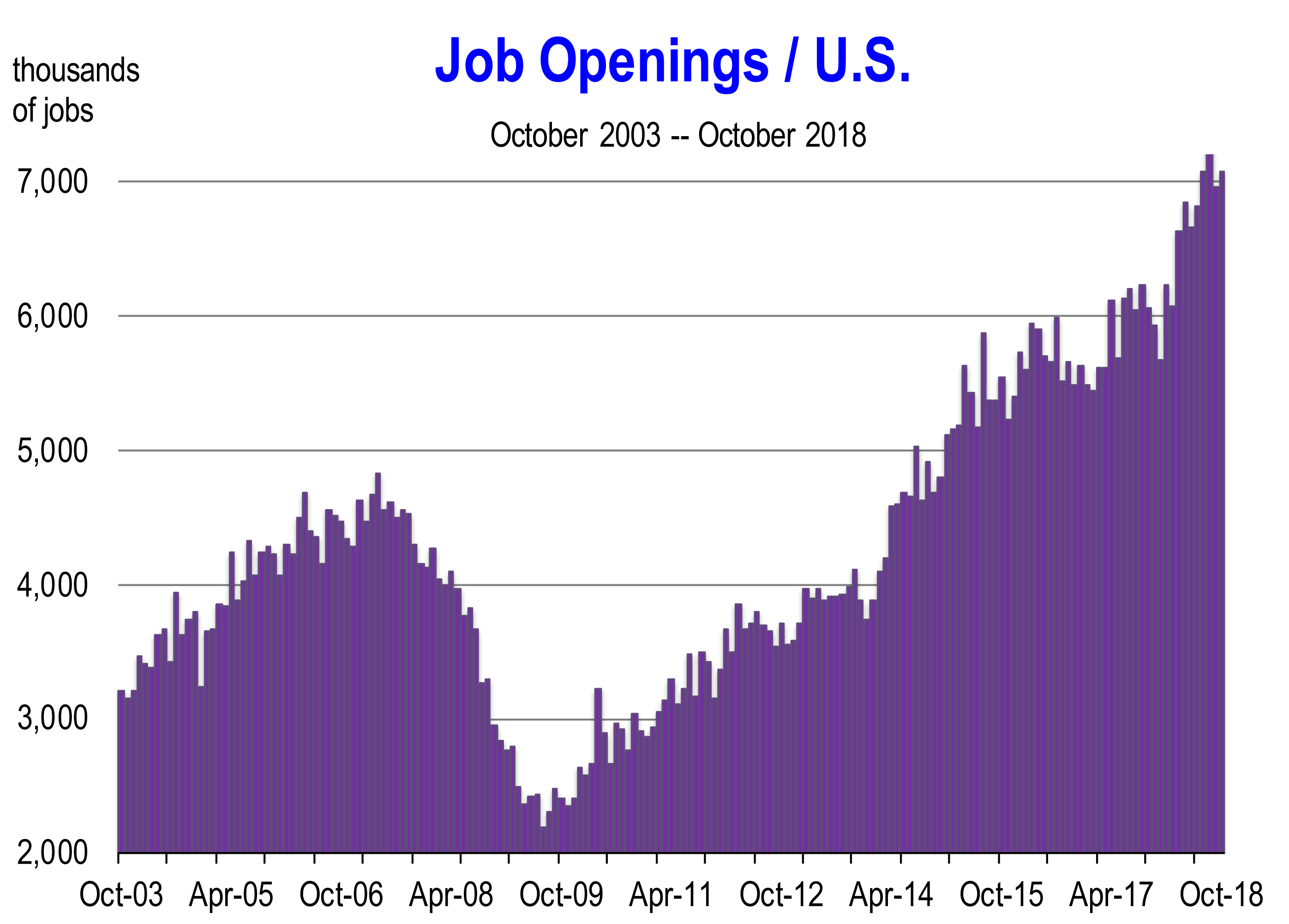 That means a slower year for output and the quarterly GDP reports, unless workers become a lot more productive.
Unfilled positions that need filling lead to higher wages and salaries. So expect to receive a raise this year or expect higher labor costs for your new employees and also your existing employees in order to preempt their taking another job.
The Fed will raise rates probably four more times in 2019.
We are looking at 3.5 percent on the fed funds rate a year from now. And if the 10 year Treasury Bond yield rises to 3.8 percent, the 30 year fixed rate mortgage will go to 5.4 percent by year's end. Long term rates are not expected to rise as much as short term rates. This can be problematic because a convergence of the two frequently presages recession in 9 to 12 months.
The direction of real estate is more highly dependent on local factors. This includes job opportunities, housing supply, and relative prices. Homes will not be selling like hot cakes in 2019. There may even be a pull back as interest rates move higher, and less inventory (or low levels of inventory) limit the number of buyers that can afford to own housing.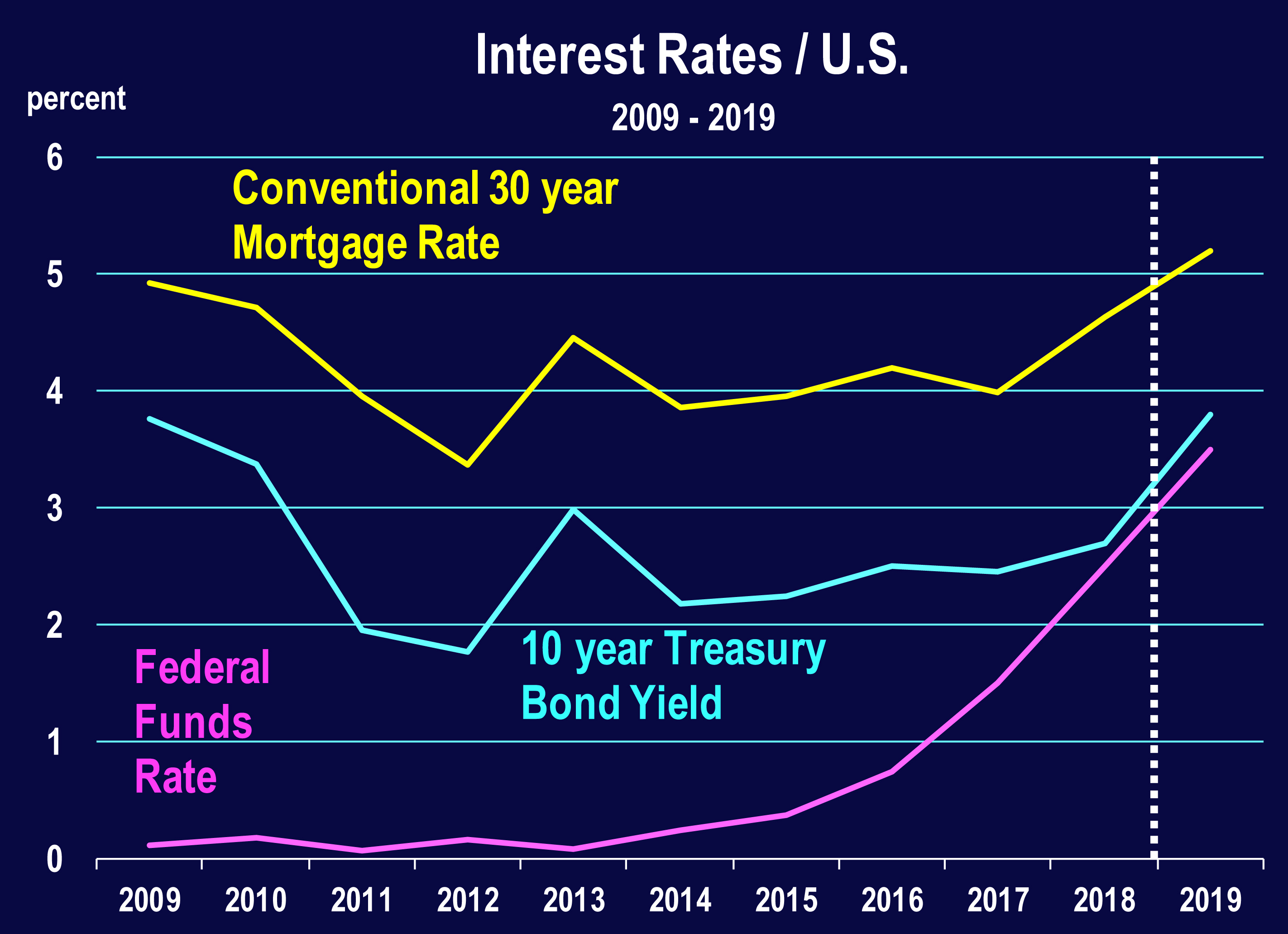 The product being produced is largely apartments so more people will rent. If you own apartments, demand this year should keep them fully occupied.
The stock market is not predicted to collapse. But if there is a sustained decline in valuations, this would impact consumer confidence and consumer spending in 2019 and our expectations regarding interest rate hikes would change.
The trade war with China needs to end, but it's likely to continue for a time longer this year. Global business sentiment has declined and exports from the U.S. farm sector have declined, which has impacted farmers. Given these effects which have grown more evident during the 2nd half of 2018, more tariff hikes are unlikely and there is a greater motivation from the White House and China to end the war.
Inflation will remain contained in 2019, at less than 3 percent. Gasoline prices are falling along with food costs and these should offset increases in wages and goods impacted by higher tariffs. Housing prices are expected to level off and won't contribute to the inflation rate.
Summary: What to Expect in 2019
Jobs created: Fewer
Job opportunities: Very strong
Unemployment: Rock bottom
Average salaries: Rising
Trade war: Ending
Stock Market: ???
Interest Rates: Higher
Inflation: Same as last year
Housing: Weaker
Recession: Highly unlikely
The California Economic Forecast is an economic consulting firm that produces commentary and analysis on the U.S. and California economies. The firm specializes in economic forecasts and economic impact studies, and is available to make timely, compelling, informative and entertaining economic presentations to large or small groups.