Tracking Residential Real Estate Weekly
by Mark Schniepp and Ben Wright
April 3, 2020
Just as the spring selling season was about to begin, the real estate market was hit by the Coronavirus recession. What do the direct impacts of COVID-19 mean for the housing market?
As of April 1st, listings of California single-family homes were down 33 percent on a year-over-year basis. It appeared that listings were beginning to increase in February and early March, but turned sharply downward almost immediately after the Trump Administration declared a national emergency on March 13th.
Showings are also down, having fallen by 65 percent from the beginning of the year. Some showings have moved to the virtual space, with reports of "robot" tours and iPhone walkthroughs, but these efforts obviously haven't replaced the traditional in-person experience.

Results seem to be similar in various California submarkets. In the region encompassed by the Conejo Valley, Simi Valley, and Moorpark (a relatively high-priced area of Ventura County) inventory has not yet begun to increase for the typical selling season and is 37 percent lower than March 2019.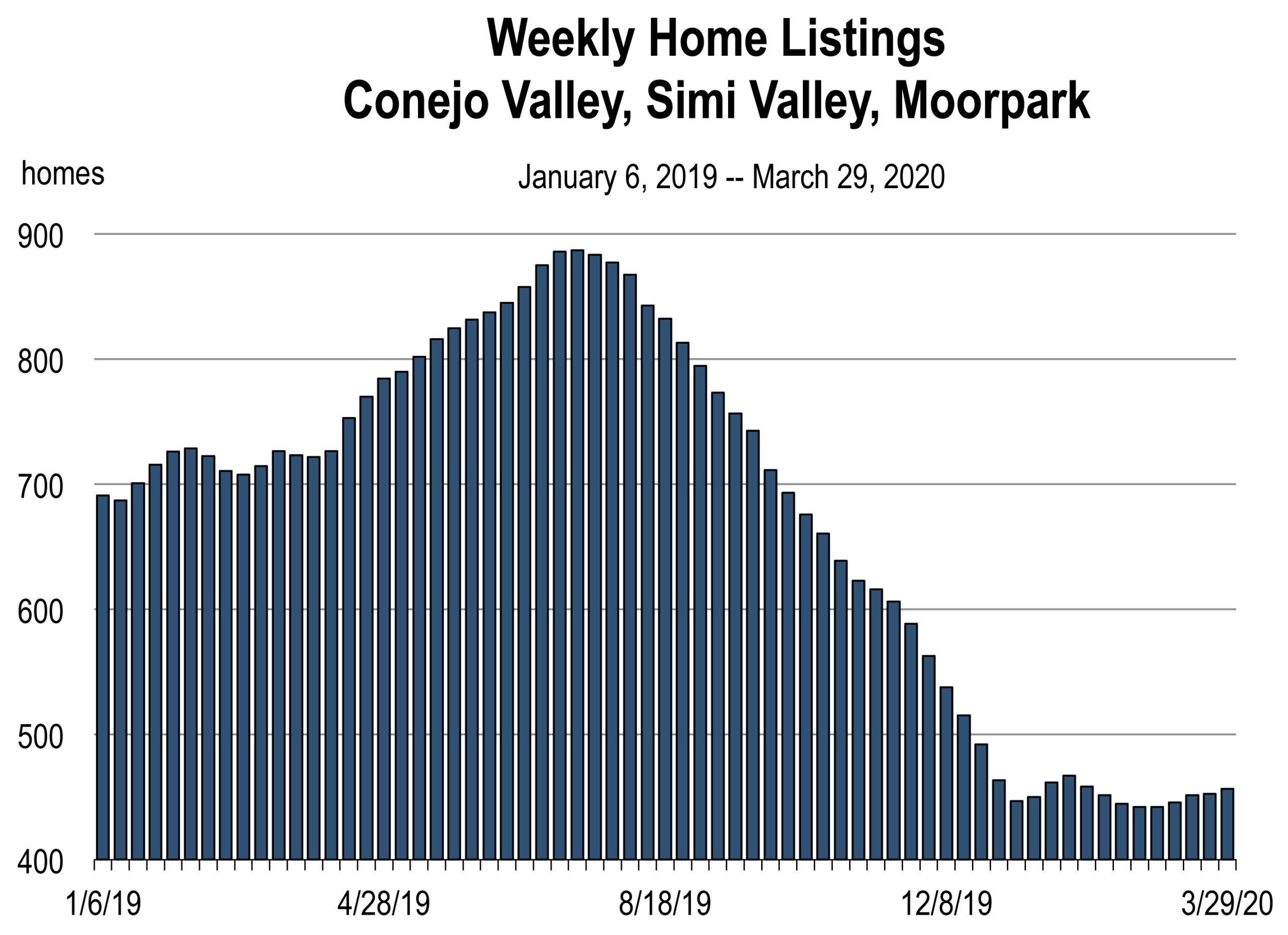 Thus far, the pandemic and resulting economic fallout haven't had any observable impact on home values, but (1) it's still early, and (2) conditions could easily change.
In our local Santa Barbara market, the median price of a single-family home was $1.15 million in the weeks after the statewide shelter in place was issued (March 20th to March 31st), which is only slightly below the same period last year.
Santa Barbara home selling prices were already moderating prior to the pandemic, having declined in both January and February, indicating that the drop in inventory has been matched by a similar absence of active buyers. And across the Conejo-Simi-Moorpark region, prices are still increasing and are up by almost 5 percent from last year. Somehow, sales are rising too.
As more real time information is released on home values and sales, we'll post it to this page.

Mortgage Rates
They have tumbled, which is having an explosive impact on loan refinance.
Though mortgage rates have fluctuated since the Coronavirus inundated the U.S., they are currently near all time historic lows, along with the 10-year Treasury bond yield. As a result, refinance applications surged in March, reaching historic highs.
Refinance activity, tracked weekly by the Mortgage Bankers Association, was 67 percent higher in March than in February, and was 302 percent higher than in March 2019.
Homeowners are rushing to lock in lower rates on their mortgages, which will add to household disposable income at a time when layoffs are increasing and incoming revenue from business is growing scarce.

Special thanks to Chuck Lech for data on the Conejo Valley, Simi Valley, and Moorpark.
---
Weekly Unemployment Reaches Record Highs
by Mark Schniepp and Ben Wright
April 2, 2020
The deterioration of the labor market has been much deeper than expected, and the effective unemployment rate is now 14.8 percent nationwide.
There were 6.6 million filings for initial unemployment claims last week, shattering any previous record by an almost inconceivable amount.
A cumulative 10 million workers have filed for unemployment insurance benefits over the last two weeks. Claims are rising because of heavy layoffs, and because self-employed workers and independent contractors are now eligible to collect benefits.
Consequently, we estimate that there are probably more than 20 million people who are effectively unemployed.

It's important to note what we mean by an effective unemployment rate. We're not tracking the official unemployment rate that will be released by the BLS because the official unemployment rate will miss (1) people who still have a job but have had their hours cut, (2) people who have been laid off and are unable to search for a new job until the quarantines end, and (3) workers who have been furloughed without pay.
In this unprecedented environment, there are a lot of workers who fall into these categories, and our weekly estimates are designed to capture them.
Normally, the BLS unemployment rate is a highly accurate labor market indicator, but our unemployment tracker will be far more informative during the Coronavirus recession because everyone, including unemployed workers, must stay at home, which prevents or seriously interferes with searching for an interim job.
There has been a plunge in hiring anyway, except at Amazon, Walmart, Target, the grocery stores, Dominos, UPS, the postal service, and healthcare enterprises. Approximately 40 percent of companies indicated that they were hiring in late February. That number has now declined to 6 percent. Consequently, finding work today will be an onerous task.
Since March 14, over one million Californians have filed for unemployment benefits. The effective unemployment rate in California has risen to 16.0 percent, the highest on record, with more than 3 million residents effectively unemployed. This number will be going higher next week.
Please stay tuned to this page for real-time updates on the COVID-19 economy.

---
Layoffs Spike in Hotels, Restaurants, and Bars
by Ben Wright
April 1, 2020
There were approximately 737,000 layoffs in California last month, through March 25th. The vast majority of these layoffs were observed after the statewide Shelter in Place was issued on March 19th.
Layoffs were high in the accommodation and food services sector, which is primarily comprised of restaurants, hotels, and bars. Through March 25th, there were 426,000 layoffs in this industry.

Aside from accommodation and food, the largest numbers of layoffs were observed in arts and entertainment, which includes gyms and fitness centers, and in manufacturing and healthcare.
If you're surprised to see healthcare layoffs, don't be. Virtually all of these layoffs were planned in January or February and just happened to coincide with a global pandemic. There's a good chance some (if not most or even all) of these workers will be recalled to their jobs.
Why weren't there more layoffs in the retail sector? It appears that retailers are furloughing their employees without pay, planning to bring them back to work when the pandemic ends.
Furloughs are not technically layoffs, and furloughed workers won't show up in our layoff data. They also won't show up in the official unemployment rate from the Bureau of Labor Statistics. But they will show up in our weekly unemployment tracker, which we believe will provide a more effective indicator of unemployment than the standard government estimates.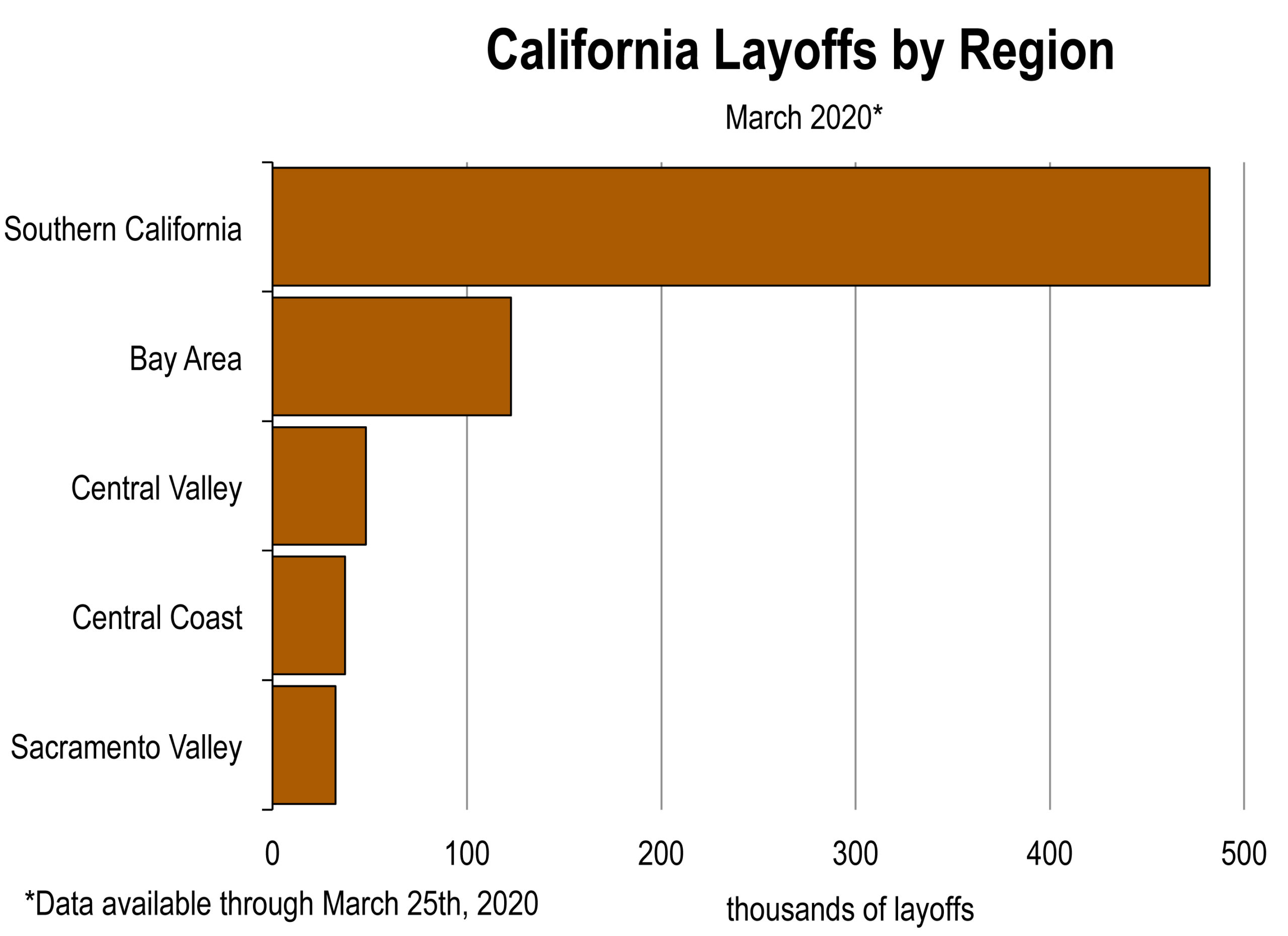 Firms in Southern California, and particularly Los Angeles County, were responsible for a disproportionate share of layoffs in March. Southern California accounts for 55 percent of the statewide labor market but was characterized by 65 percent of statewide layoffs. Los Angeles County makes up 27 percent of the California job market but was the epicenter of almost half of all layoffs.
To date, more than 334,000 layoffs have been planned for April and May in California, but this number is expected to increase in firms hit hard by changing macroeconomic and policy conditions.
Jut two days ago, officials in San Francisco indicated that they may tighten restrictions on the construction industry. According to the statewide Shelter in Place directive, construction companies have been classified as "essential" businesses, and all construction workers have been exempt from staying at home.
Soon, construction activity in San Francisco may be limited to infrastructure projects, healthcare facilities, affordable housing projects, and a few other categories, undoubtedly leading to construction layoffs.
We plan to update our layoff estimates as new information becomes available.
Layoffs by Sector, March 2020 — May 2020
| Sector | Layoffs in March* | Layoffs Planned for April and May** |
| --- | --- | --- |
| Agriculture | 8,353 | 11,822 |
| Mining & Natural Resources | <1,000 | <1,000 |
| Utilities | <1,000 | <1,000 |
| Construction | 3,469 | <1,000 |
| Manufacturing | 45,340 | 60,843 |
| Wholesale | 2,690 | 9,203 |
| Retail | 26,050 | 51,428 |
| Transportation & Warehousing | 9,910 | 86,327 |
| Information | 39,252 | 30,722 |
| Finance & Insurance | <1,000 | 45,977 |
| Real Estate & Rental | 6,406 | <1,000 |
| Professional & Technical | 25,661 | <1,000 |
| Management | 1,982 | <1,000 |
| Administrative Support & Waste Services | 12,777 | 10,512 |
| Educational Services | 16,600 | <1,000 |
| Healthcare | 42,155 | 2,973 |
| Arts & Entertainment | 48,420 | 2,548 |
| Accommodation & Food | 425,617 | 19,750 |
| Other Services | 20,953 | 2,017 |
| Total, all Sectors | 737,237 | 334,123 |
| Source: California LMID, BLS, and California Economic Forecast | | |
| *Through March 25, 2020 | | |
| **Planned as of March 25, 2020 | | |
---
Introducing Our Weekly Unemployment Tracker
by Mark Schniepp and Ben Wright
March 30, 2020
Most of us now believe that macroeconomic conditions are deteriorating rapidly, but real-time evidence is sparse. Here at the California Economic Forecast we are developing a series of indicators that detect daily/weekly changes in the economy, and they will be posted to our website as part of our continuing coverage of the COVID-19 pandemic.
Weekly Unemployment Rate Estimates
During the week of March 28, 2020, the US weekly unemployment rate increased to 9.4 percent. This is a preliminary estimate that will be updated on April 2nd when more information will be available to us. We anticipate that the updated figure will be somewhere between 8.5 percent and 11.3 percent.
The unemployment rate began to move sharply higher during the week of March 21st, which was the first full week after the National Emergency was declared and restaurants, bars, and other gathering places were ordered to close.
We estimate the California weekly unemployment rate to be 12.3 percent, up from 3.9 percent just four weeks ago. We plan on revising this rate on April 2nd with the expectation that it will remain within a range of 9.4 percent and 15.5 percent.

The increase in California's unemployment rate has been more pronounced than the U.S., likely a result of California's dependence on tourism and trade, and on the early calls to shelter in place. The first regional shelter in place directive was issued in the San Francisco Bay Area on March 15th, and a statewide shelter in place became effective on March 19th.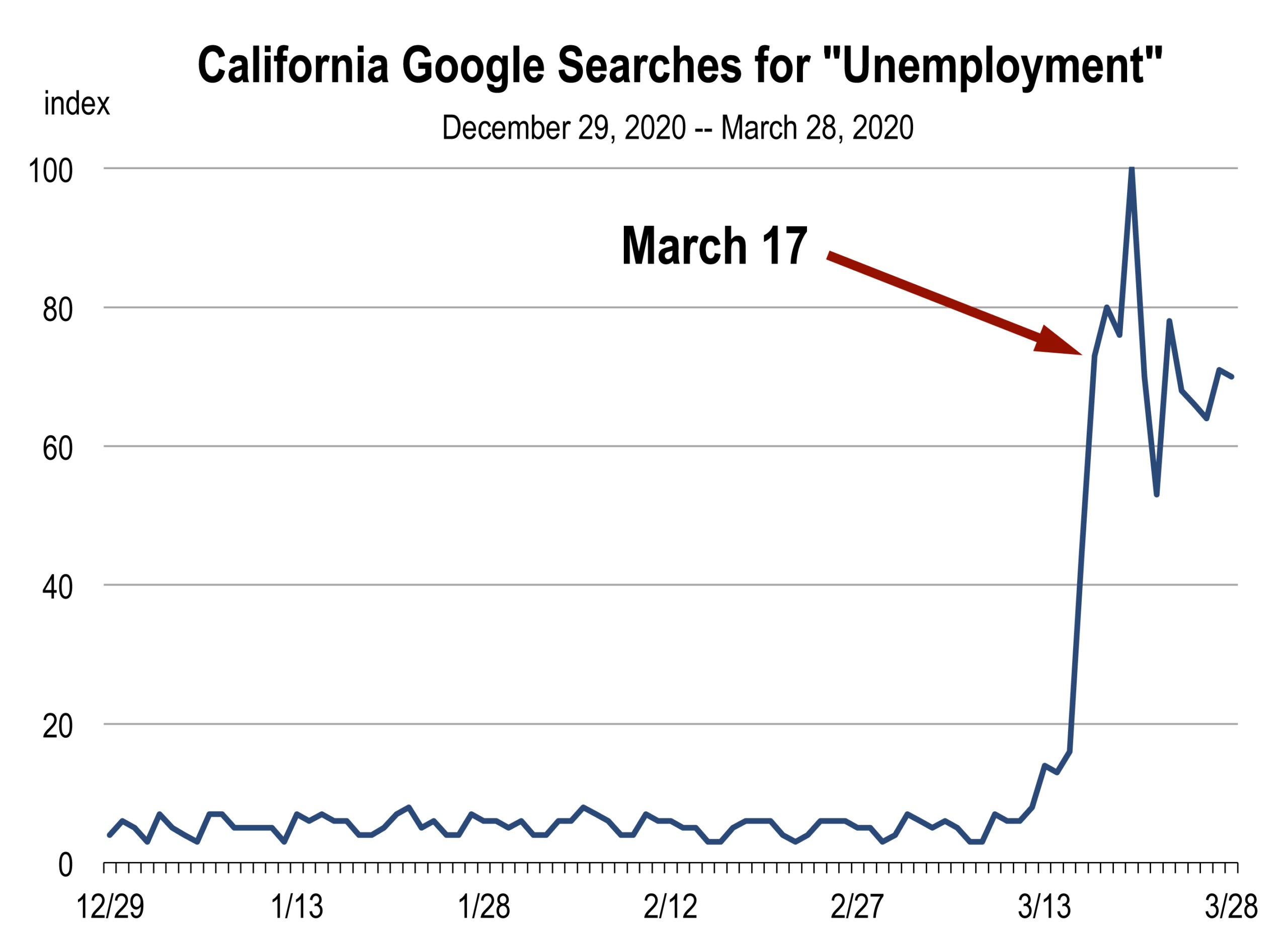 Our weekly estimates generally coincide with other high-frequency labor market data, including Google searches.
According to Google Trends, searches for the word "unemployment" (by itself or in any string including unemployment benefits, unemployment office, or unemployment claims) increased by 1,786 percent between March 15th and March 20th.
Technical Note:
The Bureau of Labor Statistics reports a monthly unemployment rate. Their survey (conducted jointly with the Census Bureau) measures unemployment for the week that contains the 12th day of each month.
Consequently, people who lost their jobs after March 15th won't appear in the BLS unemployment rate until April.
The BLS will report an April unemployment estimate for the U.S. on May 8th, and for California on May 22nd.
---
First Impressions of the Congressional Rescue Package
by Mark Schniepp and Ben Wright
March 26, 2020
Filings for Unemployment Benefits Soar Beyond Belief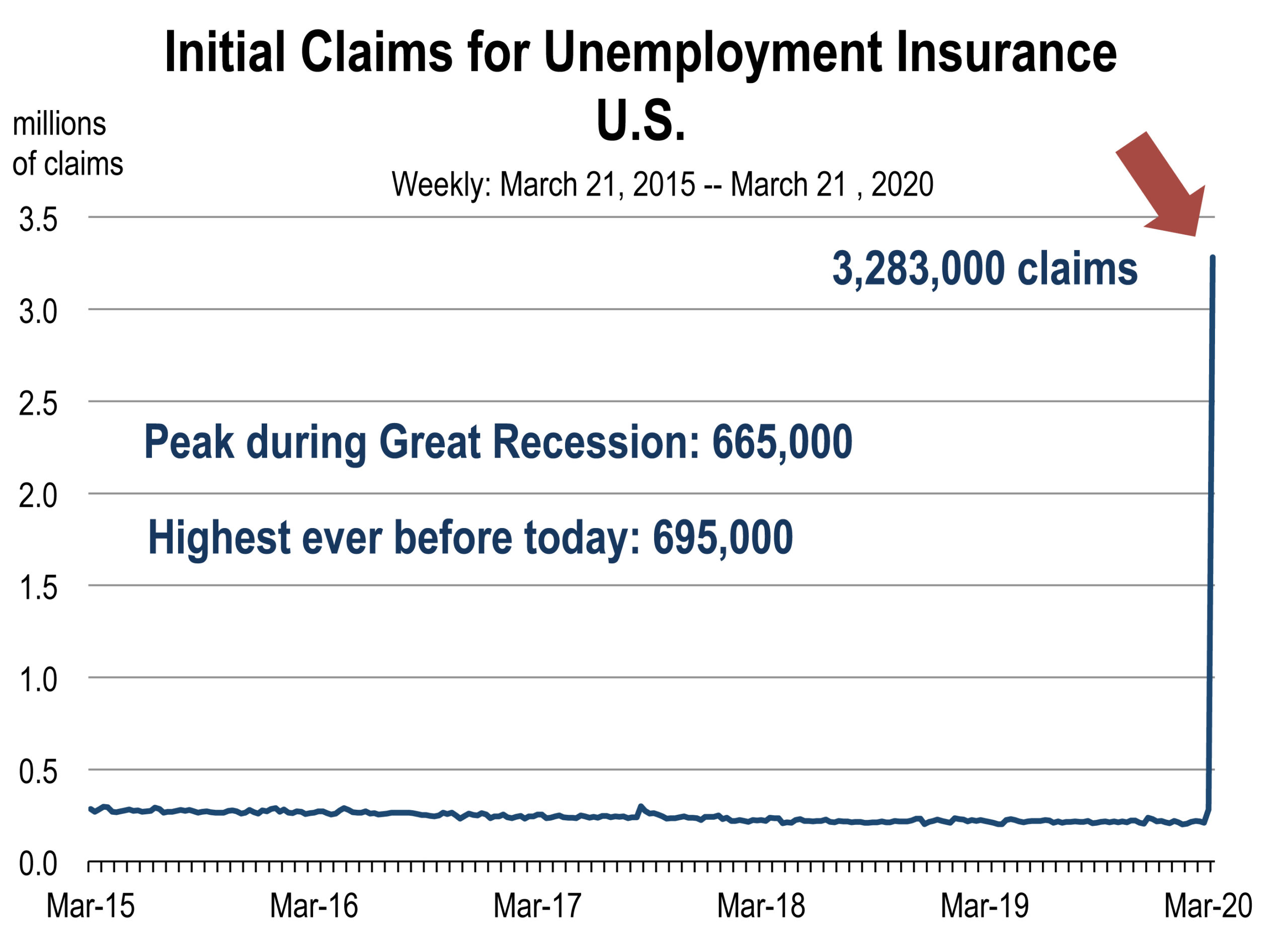 The rapid spread of the coronavirus has led to massive business disruptions in the U.S. over the past several weeks. A growing number of states across the country ordered residents to "shelter in place," and non-essential businesses such as sit-down restaurants, retail stores, and any event supporting public gathering have been forced to close or shut down.
Effectively, federal and state governments have shut down the U.S. economy. As a result, the pace of layoffs has been so swift, new fillings for unemployment insurance have skyrocketed to historic levels.
The Rescue Package
On Wednesday night, the Senate voted 96-0 in support of the $2.2 trillion emergency package intended to avert economic collapse . The 880 page bill goes to the House for a vote on Friday.
Unemployment: Some Workers will be Getting a Raise
Under the package, all unemployed workers across the U.S. will be eligible to receive $600 per week in federal aid. They will also receive unemployment benefits from their state-level unemployment insurance departments.
There does not appear to be any limiting criteria associated with the $600/week supplement in unemployment benefits.
In California, state-level benefits cover half of the salary of anyone earning up to $46,800 on an annualized basis. Workers earning more than $46,800 receive the maximum of $450 per week.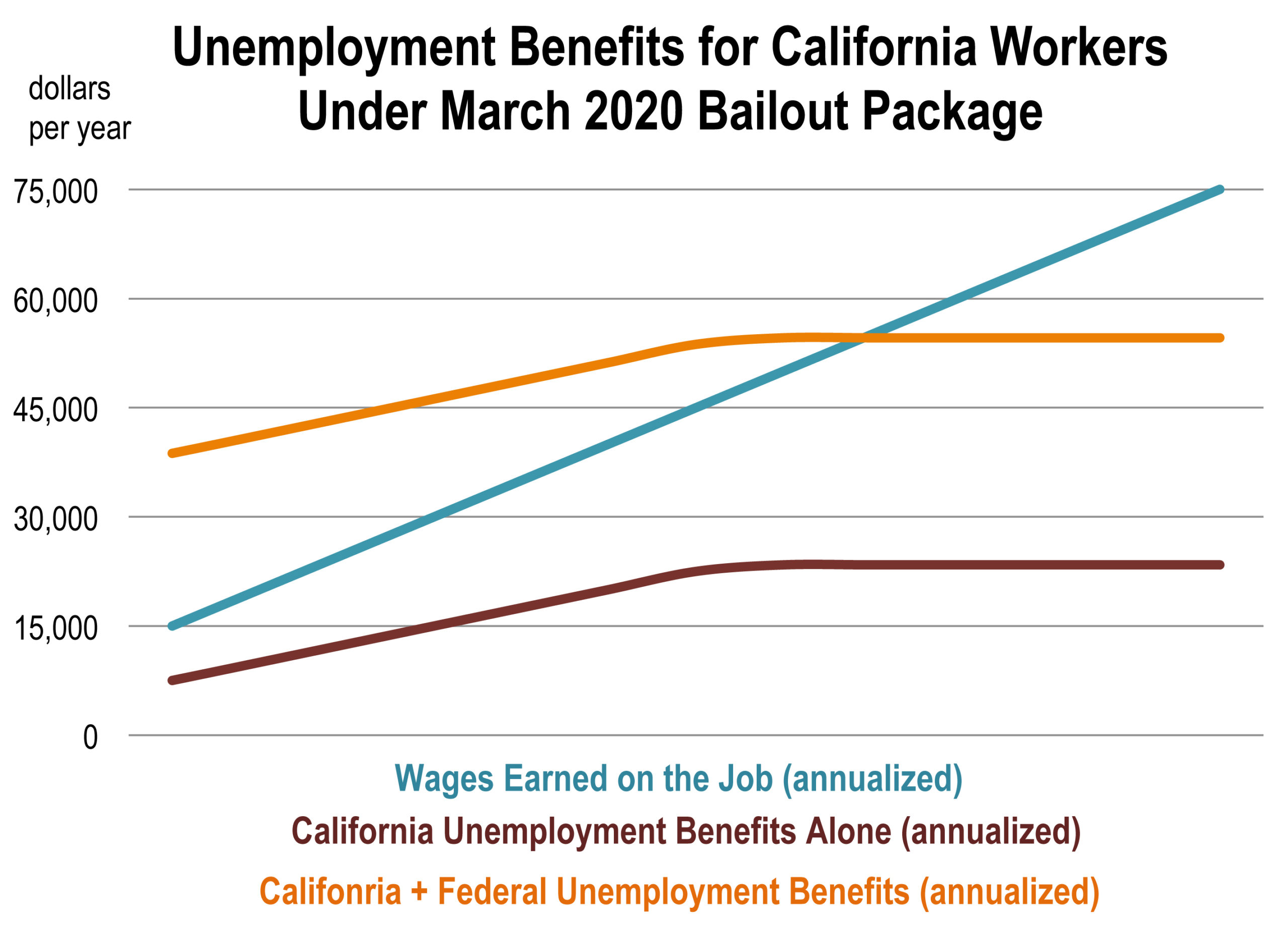 With state and federal aid combined, many California workers will begin earning more than when they still had a job.
For example, a full-time worker earning the minimum wage would have earned approximately $25,000 this year. Under the new bailout package they will receive $600/week from the federal government and $230 from California, leading to annualized earnings of $43,160.
The $600/week federal benefits are effective through July, so for the next few months, laid off workers in California that were making less than $54,600 will earn more from their unemployment benefits than they would have if they had kept their job, not counting things like employer-sponsored health insurance and retirement contributions.
Also in the bill: Gig workers like Uber drivers will be eligible for unemployment benefits for the first time.
Employee Retention
The bill includes $50 billion for tax credits for firms that retain workers on their payroll and cover 50 percent of worker's pay. Firms will also be able to defer payment of Social Security payroll taxes, which are 6.2 percent of the first $137,700 in wages for each of their employees.
Helicopter Money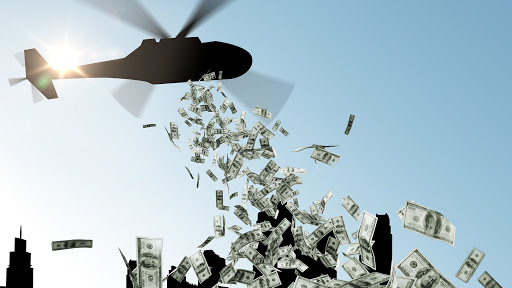 Persons earning less than $75,000 in adjusted gross income will receive a stipend of $1,200. Households with two workers will receive $2,400. The stipend rises by $500 with each child. The subsidy phases out at higher incomes and no subsidy would go to individuals earning more than $99,000.
Much of the subsidy will be used to finance food and shelter expenses that have been distressed by the loss of a paycheck or business revenues.
Loans to Businesses
There is $850 billion in guaranteed loans being made available to businesses, both small businesses and distressed businesses of any size. This type of program could prevent many firms from permanently shutting down if the funding can be received during the month of April. Some businesses could still be saved if the loans arrive in May.
Hospitals
The bill includes $130 billion in cash payments to hospitals to finance resources. Many hospitals need to acquire new resources, including ventilators and hospital beds, to be prepared for a potential surge in patients.
How Significant is the Rescue Package?
Two trillion dollars represents a sizable volume of potential funding for the U.S. Economy. Total gross domestic product for 2020 (in the absence of the pandemic) was expected to be $22.1 trillion.
The $2.2 trillion bailout therefore represents 10 percent of annual GDP, or just over 5 weeks of U.S. economic activity. If, hypothetically, somewhere around 20 percent of GDP were lost due to the pandemic, then $2.2 trillion would offset about 5 months of economic loss, provided that consumers and businesses spend the bailout funds, rather than put them into savings.
Since much of the package takes the form of loans, nearly half of the amount would be returned to the U.S Treasury over time. The remaining $1.3 trillion represents a supplemental increase to the national debt, and will ultimately have to be repaid with higher taxation in the future.
---
5 Million California Jobs at Risk
by Ben Wright
March 25, 2020
California's statewide "Shelter in Place" orders could shutdown 28 percent of the job market. It's an astounding situation that has virtually no comparable precedent.
We're talking about 5 million jobs across 400,000 firms, a scenario that dwarfs the 2008-2009 recession when the state lost 1.1 million jobs over the course of 18 months. The coronavirus pandemic has unfolded over just a few weeks.
To arrive at these estimates, we did an industry-by-industry accounting of the jobs that were deemed "essential" by the State Public Health Officer.

Along with the jobs at risk, California residents could incur $21 billion in lost wages for each month that the "Shelter in Place" is in effect. Some firms are furloughing their employees with full pay and benefits, but most companies simply can't afford to do so without an enormous amount of government support.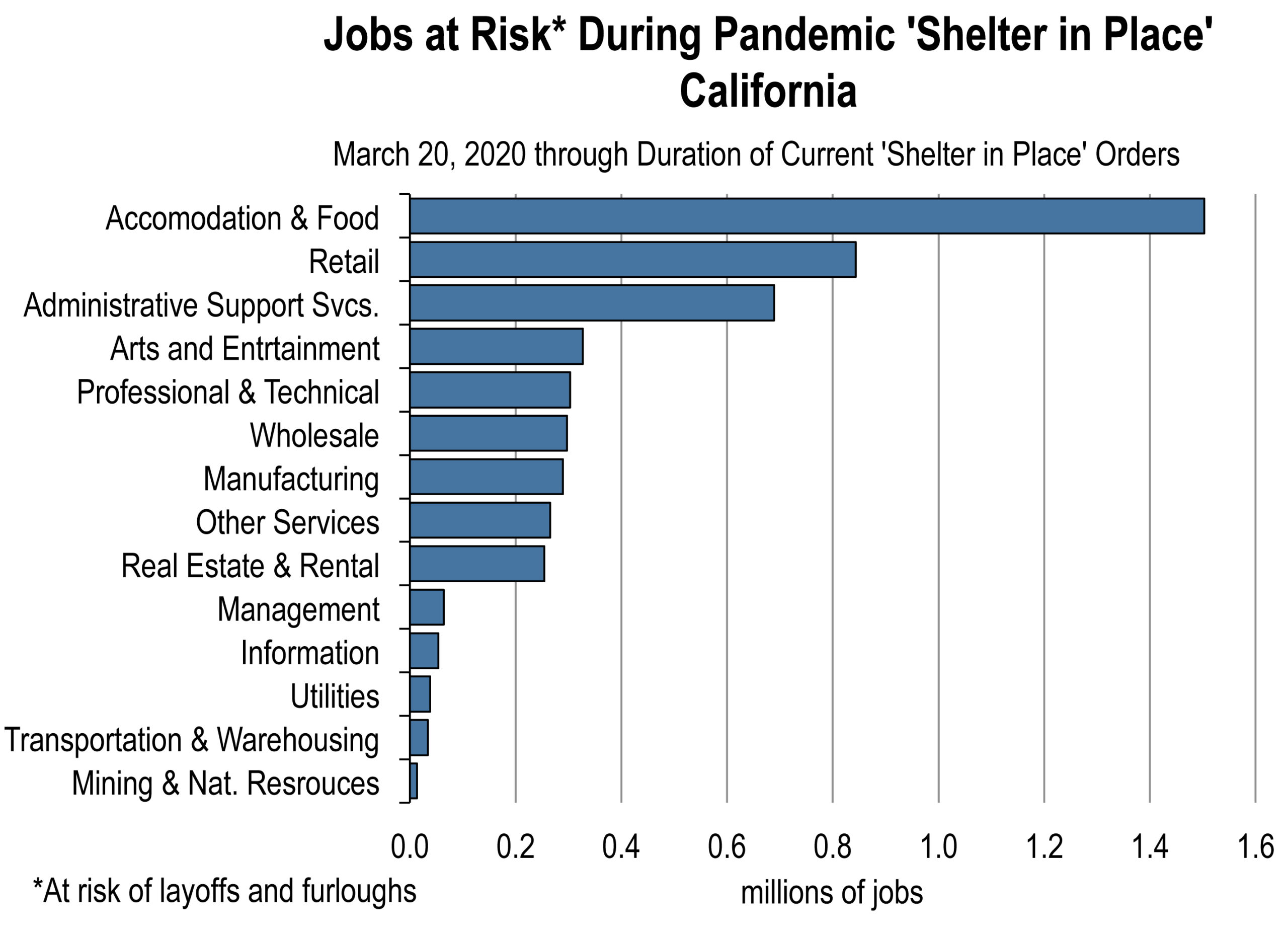 The $2 trillion bailout package, which is close to being finalized, will do more to expand unemployment benefits than keep workers from losing their jobs.
The number of statewide layoffs has already broken records and is expected to surpass 700,000 for the week ending March 28th.
In a hypothetical scenario where all 5 million workers at risk are laid off completely, the California unemployment rate would approach 30 percent.
That's unlikely to happen, and we don't even know if the official statistics will be able to capture the full magnitude of the downturn.
Many of these layoffs and furloughs will occur in the second half of March, meaning that they won't appear in the unemployment rate until April.
But everyone should be prepared for economic data that would have seemed unbelievable in almost any other context.
| Sector | Jobs at Risk of Layoffs and Furloughs | Percent of Total Jobs in Sector |
| --- | --- | --- |
| Farm | <10,000 | <5.0 |
| Mining & Natural Resrouces | 12,995 | 62.0 |
| Utilities | 38,024 | 67.9 |
| Construction | <10,000 | <5.0 |
| Manufacturing | 289,649 | 21.8 |
| Wholesale | 297,097 | 42.5 |
| Retail | 843,619 | 50.8 |
| Transportation & Warehousing | 34,099 | 5.4 |
| Information | 53,814 | 9.8 |
| Finance & Insurance | <10,000 | <5.0 |
| Real Estate & Rental | 254,199 | 83.8 |
| Professional & Technical | 303,612 | 22.7 |
| Management | 64,350 | 25.0 |
| Administrative Support Services | 689,400 | 60.4 |
| Education | <10,000 | <5.0 |
| Healthcare & Social Assistance | <10,000 | <5.0 |
| Arts and Entertainment | >300,000 | >95.0 |
| Accommodation & Food Services | 1,503,021 | 87.8 |
| Other Services | 265,297 | 48.2 |
| Federal Government | <10,000 | <5.0 |
| State and Local Government | <10,000 | <5.0 |
| Total, all Sectors | 4,976,500 | 27.9 |
| Source: California Economic Forecast | | |
---
COVID-19: The Economic Impact We Can See to Date
by Mark Schniepp
March 23, 2020
As the coronavirus containment measures escalate in the U.S. (and around the world) including closing all schools, bars, restaurants and entertainment venues, and Governors issuing shelter-in-place orders in many states, the strains on economic conditions are rapidly changing.1
It is estimated that 10-20 days after full lockdowns, we should observe a decline in the infections rate. That is not yet occurring as of today. There is no full lockdown yet, but I'm guessing that is forthcoming soon.

Testing for the virus has ramped up sharply. Outside of various places like Los Angeles County, the testing policy is following that of South Korea and Singapore which produced rapid results in containing infections.
But shelter-in-place policies and closing restaurants, bars, entertainment venues, concerts, conferences, conventions, all schools, and banning travel into the U.S. has resulted in a corresponding shutdown of the economy. Job losses due to layoffs are staggering, and have largely impacted the massive food away from home sector, hotels, airlines, trucking, fitness centers, salons, car dealers, and the business support sectors.
Initial claims for unemployment insurance, one of the earliest indicators released weekly that we can use to ascertain the labor market damage, is showing record levels of new claimants (due to job loss).
The precipitous decline in employment reduces income necessary to finance day to day expenditures and discretionary spending. The 33 percent freefall decline in the stock market in 19 days will cause households to further pull back on spending.
The decline in workers and their spending, and a general decline in spending by all households because few stores are open, will necessarily push the economy into a deep contraction.
The latest forecasts for the growth rate of GDP in 2020 Q2 by some of the principal Banks and Investment houses, including the UCLA Anderson Forecast, are astounding.
| Forecast Firm/Organization | GDP Growth Forecast for 2020 Q2 |
| --- | --- |
| JP Morgan | -3 percent |
| Deutsche Bank | -13 percent |
| IHS Markit | -8.3 percent |
| UCLA Anderson | -6.3 percent |
| UBS | -10 percent (with 7 percent unemployment) |
| Goldman Sachs | -24 percent |
| Bank of America | -12 percent (including 1 million jobs lost in Q2 alone) |
And Treasury Secretary Steve Mnuchin reported the potential for the unemployment rate to go as high as 20 percent nationwide without government intervention in the form of economic stimulus.
So we are anxiously awaiting what type of stimulus package Congress will pass in the coming days that the President will sign. We will provide an updated commentary on the substance of the federal bailout program later this week.
California
Amidst new policies enacted over the last two weeks, the impacts on the California economy are unprecedented, and the front line impact is on jobs.
Food preparation and service away from home, which is now limited to take-out and delivery, constitutes approximately 50 percent of all food consumed in the U.S. Eliminating sit down service at virtually all restaurants, bars, cafeterias, school dormitories, concession stands, and food trucks, could potentially idle up to 1.45 million jobs in California.
Airline layoffs could impact up to 30,000 workers. We estimate as many as 165,000 hotel workers have been or will be laid off.
Shutting down non-essential retail stores could impact 621,000 workers. And shutting down the arts, entertainment, and recreation services impacts 323,000 California workers.
Trucking and boating will be impacted. Trucking will recover earlier as supply chains and cargo deliveries are restored at California ports.
Many workers in non-essential industries will work from home, including many in the professional services, information services, the public sector, and education. However, administrative staff and business support services workers could be laid off with the closing or scaling back the use of office space, conferences, meetings, and business events.
Jobs in healthcare services, IT, food delivery, megastores (like Costco and Target) and some manufacturing will increase, but the gain will hardly offset the substantial losses elsewhere.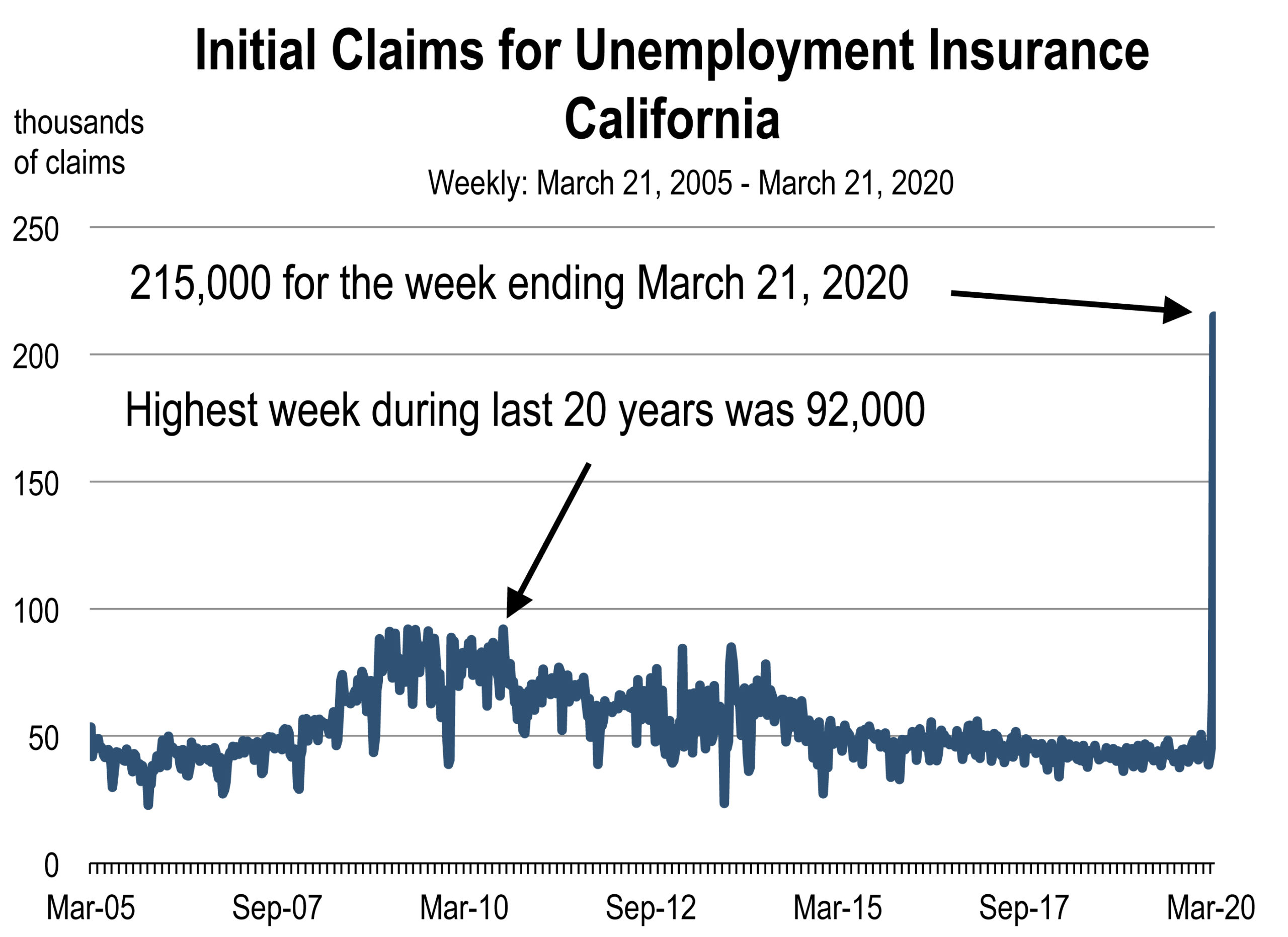 We are entirely uncertain of how employers will implement reductions in staffing, be it with layoffs, furloughs, or as needed, but the potential for record numbers of layoffs is now present in California. And this would generate a staggering increase in the unemployment rate.
Analysis of the initial claims for unemployment in California for the week ending March 21, 2020 show an unprecedented and spectacular increase in the estimated number of claim filings. The level for the most recent week is nearly 5 times the previous week ending March 14.
The March 21 reporting is based on the number of Californians who applied for unemployment insurance last week. These numbers may be revised this week, based on California workers who successfully filed. The number of workers who were eligible to file and attempted to do so may be much larger.
Nevertheless, it provides us a strong and early indication of the extent to which the labor market misery will be felt in California.
If the majority of the workers from these impacted sectors are laid off, look for the unemployment rate to soar (from 3.9 percent in January) to 6 or 7 percent in April, perhaps even higher. Job loss during April could conceivably push upwards toward 1 million jobs.
—-
1 As of 4 PM PDT Monday, March 23, shelter-in-place is now prevailing in California, New York, New Jersey, Maine, Connecticut, Illinois, Louisiana, Idaho, Colorado, Georgia, Oregon, Massachusetts, Michigan, Wisconsin, West Virginia, Indiana, and Washington.
Stay tuned for future updates…