by Mark Schniepp
September 15, 2020
So now we know that the answer to restoring the economy is to end the pandemic. That may seem obvious but here's why it's not. Containment has proven fragile, with notable spikes in parts of the country. Moreover, premature reopening may mean that the curtailment of pandemic hot spots will take longer.
The pandemic must be eradicated rather than controlled, because new outbreaks are possible and/or a 2nd wave might occur, resulting in the possible reinstatement of business closures and economic carnage. In other words, we can't predict which way the virus will go and who it will affect. We have already witnessed this with the reopenings and subsequent closures of regional and state economies and with public protests and non-distanced civil unrest in late May and June.
These events caused another surge in cases. They also caused an increase in hospitalizations and deaths, among more than just the elderly age group.
Eradicating the coronavirus means a therapeutic cure or a vaccine to inoculate the population from contracting the virus, now, or in the near future.
To forecast how the economy will evolve, we have to devise a plausible story with particular milestones and conditions, mostly about when business restrictions are entirely lifted.
We have assumed that the vaccine becomes ready after the beginning of the year, or in January/February of 2021. Dissemination occurs over the subsequent 3-4 months when most of the U.S. population receives it. Consumers will gain new confidence that they won't contract the virus and most will resume public interaction and gatherings as before. Businesses prepare for normal operation during the spring months of 2021.
The economy effectively opens up more fully next summer. Travel resumes with more exuberance and spending on goods and services, and recreation surges. The 2nd half of 2021 results in stronger growth and major gains in employment and income.
The economy however is not back to the pre-crisis status. During most of calendar 2020 and in much of the first half of 2021, ongoing economic restrictions will have resulted in millions of permanent business closures and jobless workers. These closures cannot be reopened quickly by replacement businesses. There may also be some lingering fears that a mutated strain of the virus could be present, unaffected by the vaccine, and this would prevent some consumers from spending freely at stores, shops, or other public venues. Furthermore, many people may opt to forego the vaccine. It will also take some time for the demand for travel to be reestablished. It took more than 2 years after 9/11 for air travel to return to its prior peak.
We believe that even with the availability of a vaccine it will take time for consumers to return to normal.
With businesses taking on a huge amount of debt, repayment of that debt will take a priority over new capital spending. This will produce a drag on growth. And do not forget that state and local budgets suffered a revenue collapse that even with federal assistance it will take years to recover from.
Consequently, because the economy needs time to fully recover, don't expect a rapid return to normal once the pandemic is declared over. During 2022 and 2023 new businesses will open, workers become rehired, income is generated, and spending will rise as a result of the wider income growth.
California Will Lag
This state has been subject to the harshest restrictions on business in the nation. Most of the largest counties were shut down for a 9 to 10 week period, or longer. The easing of restrictions for all counties by June 1 was effectively removed 4 weeks later when reversals in re-openings were put into place just ahead of the July 4 holiday and on July 13. Limitations principally designed to keep people outside remained in place through August.
Unemployment surged in April, May and June, appearing slightly better in July. However, the effective unemployment rate that we track weekly still reports a 15.8 percent rate in the first week of September.
And compared to other states, California's official unemployment rate ranks 6th highest for the month of July: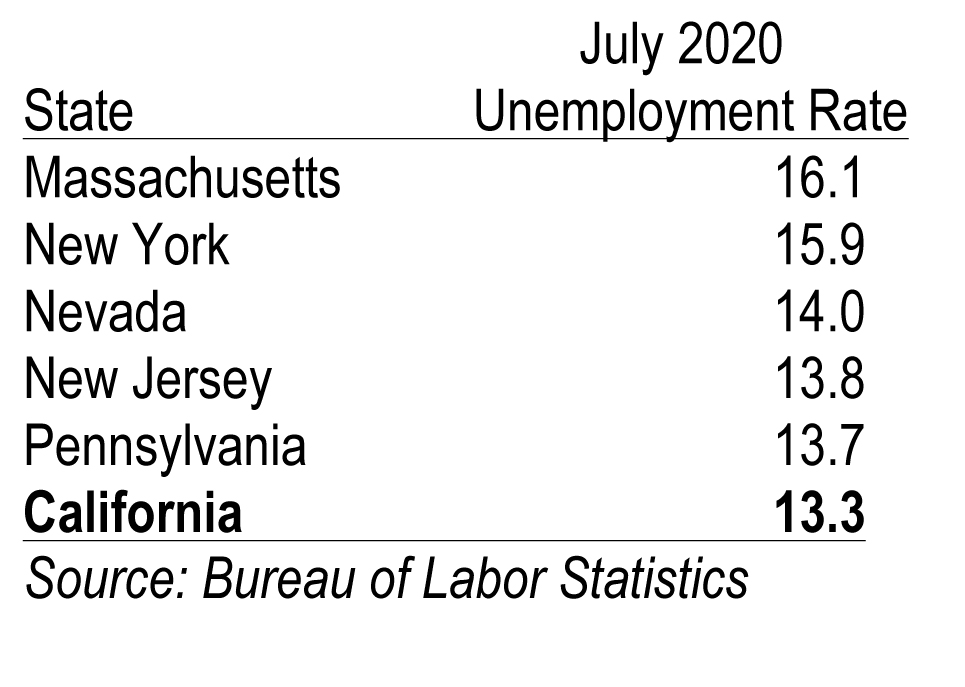 Through August 21, spending at restaurants is down 39 percent from spending levels that prevailed in January of this year. For transportation, spending is off 52 percent. Few people are flying anywhere, and gasoline prices are very low.
Consumer spending is down nearly 12 percent from January. In other states, the spending decline is significantly lower or has largely recovered: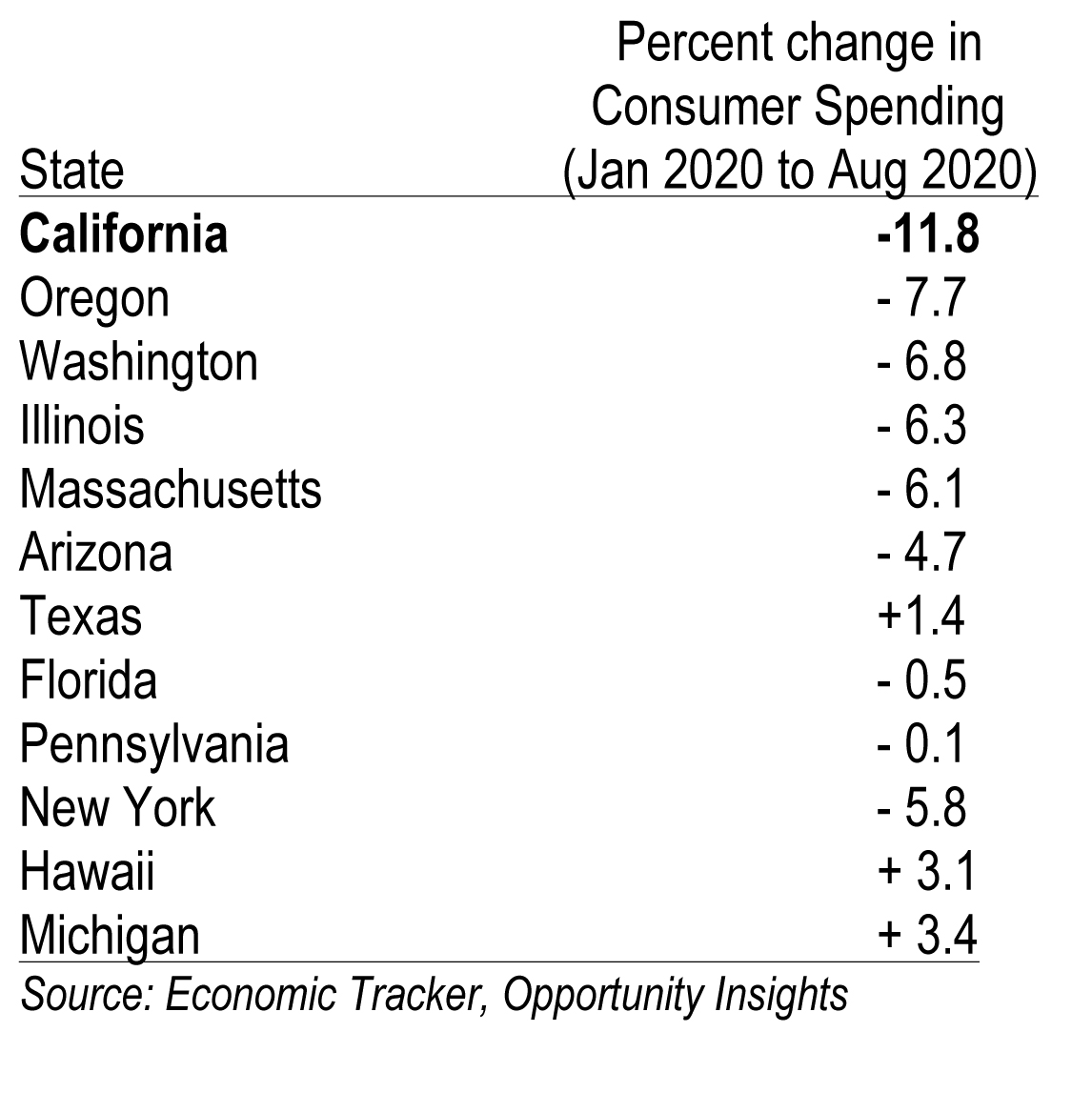 There are 25 percent fewer small businesses open today in California than there were in January. The carnage has been significant, especially for businesses in the leisure, hospitality and recreation sector which have suffered a 35 percent closure rate. In retail trade and transportation, the small business rate of closure is at 30 percent.
Many of these businesses will not reopen. A surge in bankruptcies has not emerged yet but more bankruptcies are coming over the next 5 months.
To date, the national economy has recovered 52 percent of all jobs lost in March and April. The California economy has recovered just 30 percent.
The New "Blueprint" for a Safer Economy
As of today, 33 counties representing 71 percent of the population remain in the most restrictive tier of counties based on daily case rates and the test positivity rate. The criteria for meeting the thresholds that reduce the restrictions on business are very strict. The restrictions on establishments prohibit indoor operations of nonessential business. Retailers can only allow customer capacities in their stores of 25 percent. Ditto personal care shops. No entertainment venues can open. Bars and restaurants can't open unless they are outside.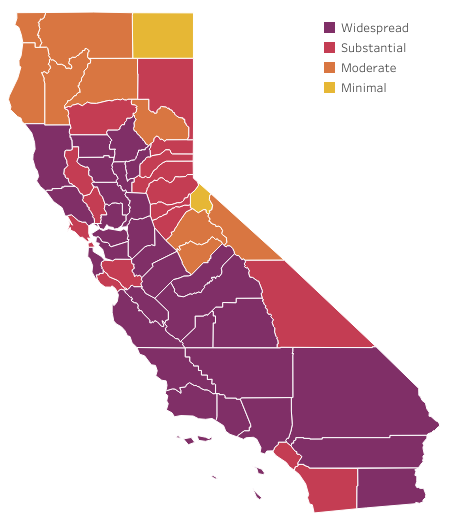 If a County moves from the most restrictive (tier 1 or purple) to the next less restrictive (tier 2 or red), capacities are allowed to increase from 25 to 50 percent, and gyms can move indoors but only with 10 percent or normal capacity.
This is likely going to be the California economy for the next few months or the remainder of the year. Moving to the less restrictive tier 3 or tier 4 appears to be near impossible for most counties unless the virus burns itself out, an unlikely condition in view of the daily new case counts in the state. Right now there are only 11 counties classified in tier 3 or tier 4 and they represent less than 5 percent of the population of California.
Schools are not going to open for the remainder of the year. Given the opportunity to open with a waiver, few public schools applied for that waiver, choosing to remain closed to in-person instruction. However, more private schools are choosing to apply, and many have already opened up.
Even if the pandemic were to suddenly end tomorrow, the economic carnage to date would be both irreversible and not yet over.
Therefore, with new protocols for California that are more restrictive on business than before, and with public schools remaining closed for the remainder of this year, the outlook for the economy predicts little improvement.
Expect a challenging fourth quarter for small businesses in California. Expect no change from the way your kids are currently receiving their education, unless you move them to a private school. And expect the travel industry to struggle for an indefinite time period because that industry is not really evolving with all distance business conducted via zoom.
Watch for our regular updates on the U.S. and California economies during the pandemic. Follow our COVOD-19 page to be the first to understand the extent of the fallout and the trajectory of the recovery.
The California Economic Forecast is an economic consulting firm that produces commentary and analysis on the U.S. and California economies. The firm specializes in economic forecasts and economic impact studies, and is available to make timely, compelling, informative and entertaining economic presentations to large or small groups.