by Mark Schniepp
September 2016
Recession in 2017?
We are now more than seven years into the current economic expansion, having officially pulled out of the Great Recession in July of 2009. Consequently, the "up" phase of the current business cycle is getting old because they don't typically last longer than 8 or 9 years. Yet if you google "recession in 2017" you'll see a full page of articles predicting recession next year.
What do you think? Are we headed for a recession in 2017? I argue here that we won't see a recession simply because we don't deserve one, yet.
Why Don't We Deserve a Recession?
We haven't demanded any particular good or service into excessive oblivion. We don't have technology stocks that are valued way out of whack (like in 2001), we don't have bubble housing prices (like in 2006), and we don't have major household debt (like in 2007). In fact, economic data regarding households or businesses is not out of balance.
 We have record vehicle sales because people are employed and have rising incomes, gas is cheap and is threatening to remain so, and many cars and trucks simply need replacement.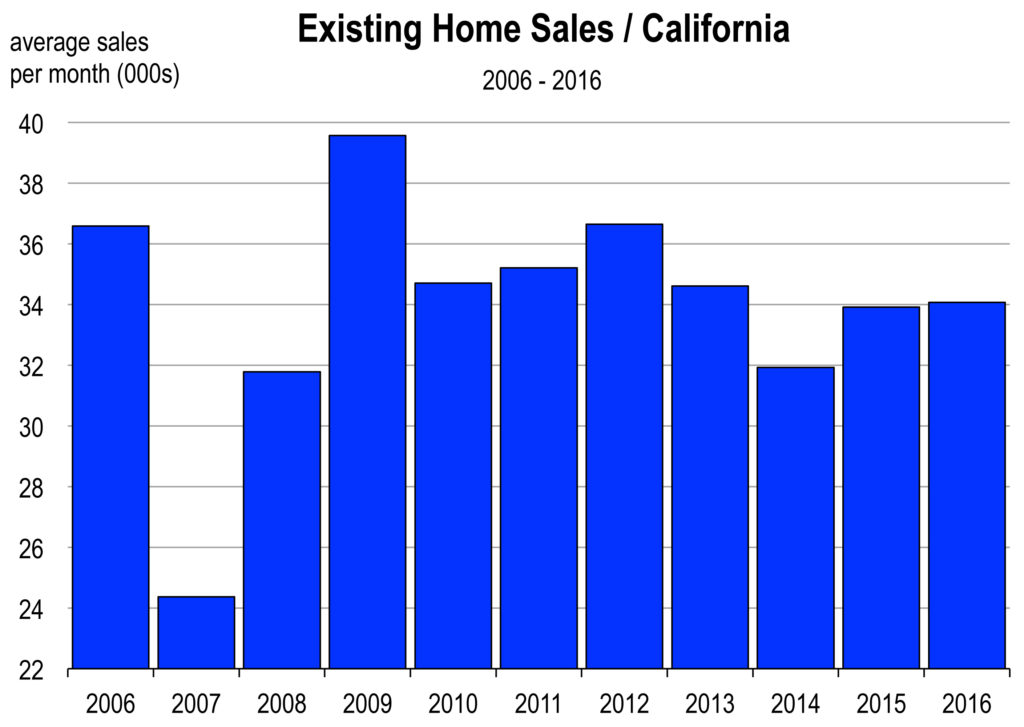 We have record stock market valuations because corporate profits have been strong, everyone's working, inflation is contained, and the American economy is growing, relative to many of our global neighbors. The market is clearly not convinced that a recession is inevitable; otherwise stock prices would be eroding.
Homes are selling but at rates way below the bubble days. And this time, buyers can actually afford these homes, largely because interest rates are so low.
Home prices are rising and at unprecedented levels in some areas, like the Bay Area. But the underlying force to home demand in California is supply and demand, and not easy financing and/or a surge of new home development. Currently, for-sale housing inventory is very low (as is new home inventory), especially in the red hot Bay Area and that's why home prices are 25 to 30 percent above the bubble peak!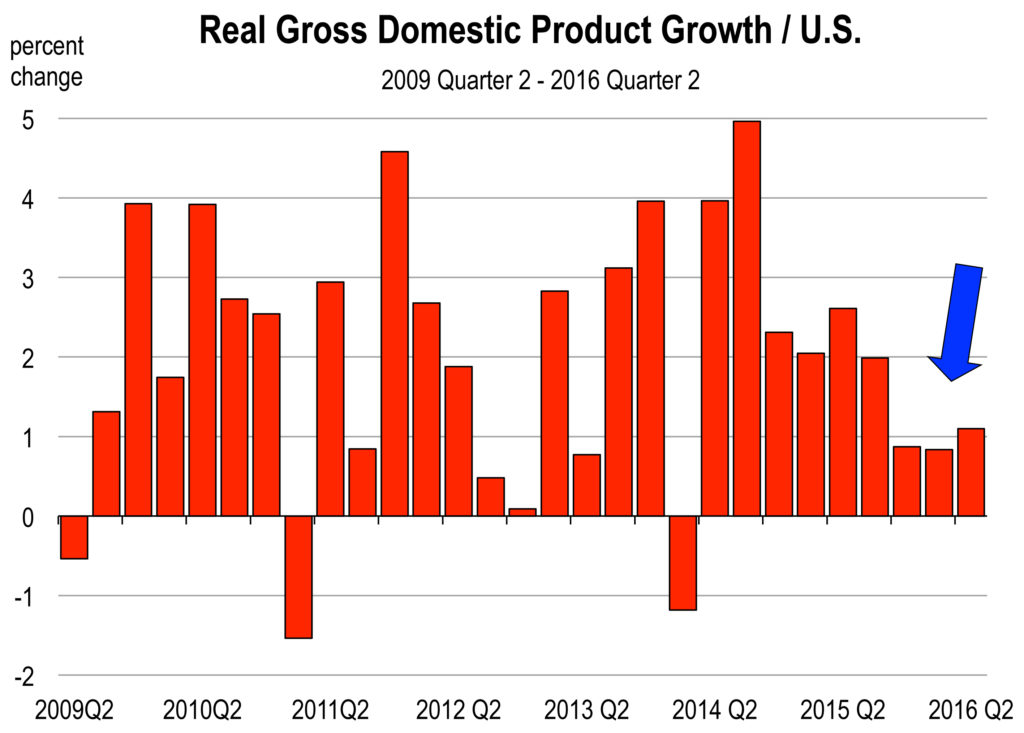 The upward movement of GDP this year has been stunningly slow, and is now running at a 1.5 percent rate of growth (we were in the mid 2s in 2014 and 2015). U.S. growth has historically averaged over 3 percent, and about 2 percent per year since the economy started growing again in mid-2009.
The very poor GDP numbers this year have spooked many analysts into predicting a recession. But we don't buy it. There are not many imbalances, no bubbles, and consumers are not stressed or overleveraged.
And it appears that the European economy is strengthening and China's stock market is slowly recovering. So the world economy is, at the moment, not threatening to hinder U.S. growth for the foreseeable future. Not even Britain.
We don't deserve a recession. We haven't done anything wrong. So we're not likely to get one. And therefore we don't see much chance of recession next year.
________________________________________________________________________________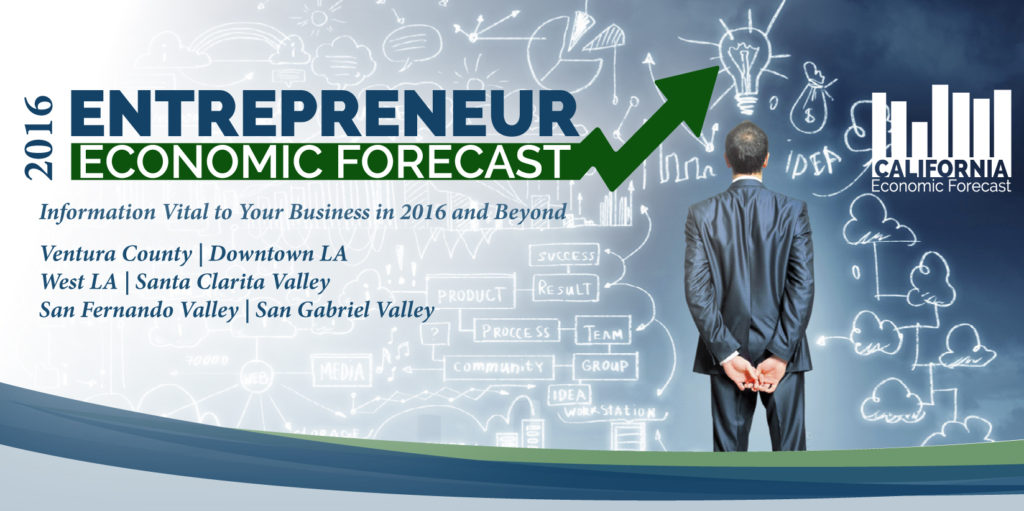 Our conference in Westlake last week was another big success. We hand many sponsors and a large crowd at our 39th semi-annual event. Our next event is scheduled for February 2, 2017 at the Westlake Hyatt.
Plan to be at the largest and longest running economic forecast in Ventura County. And we do provide a forecast, a very thorough one, in our presentations and in our publications, for both Ventura County and Los Angeles County.
The California Economic Forecast is an economic consulting firm that produces commentary and analysis on the U.S. and California economies. The firm specializes in economic forecasts and economic impact studies, and is available to make timely, compelling, informative and entertaining economic presentations to large or small groups.