by Mark Schniepp
November 2016
"In addition to causing noise, traffic and trash problems, neighbors say short-term rentals are detrimental to communities, because they reduce the supply of rental housing. Officials say they take away from hotel revenue."

[1]
Cities across the country have begun to prohibit short-term housing rentals. Bans have now been passed in Santa Monica, Anaheim, Manhattan Beach, Redondo Beach, Hermosa Beach, and New York City. A complete ban also goes into effect in the city of Santa Barbara on January 1, 2017.
But to date, little research has been conducted on the necessity of these new laws. Are they justified in view of the myriad of allegations levied at short-term rentals, despite the absence of bona fide evidence?
The Issue
A common belief is that the proliferation of short-term rentals (rentals of less than 30 days), has lead to higher rents and home prices in many communities. When properties are rented through sites like AirBnB or HomeAway.com, they are no longer available to local residents, which limits housing options within communities.
This indictment of short-term rentals is especially heated across coastal California, where available housing is especially limited and therefore especially expensive. But are these claims accurate? Are short-term rentals really raising home prices and rental rates?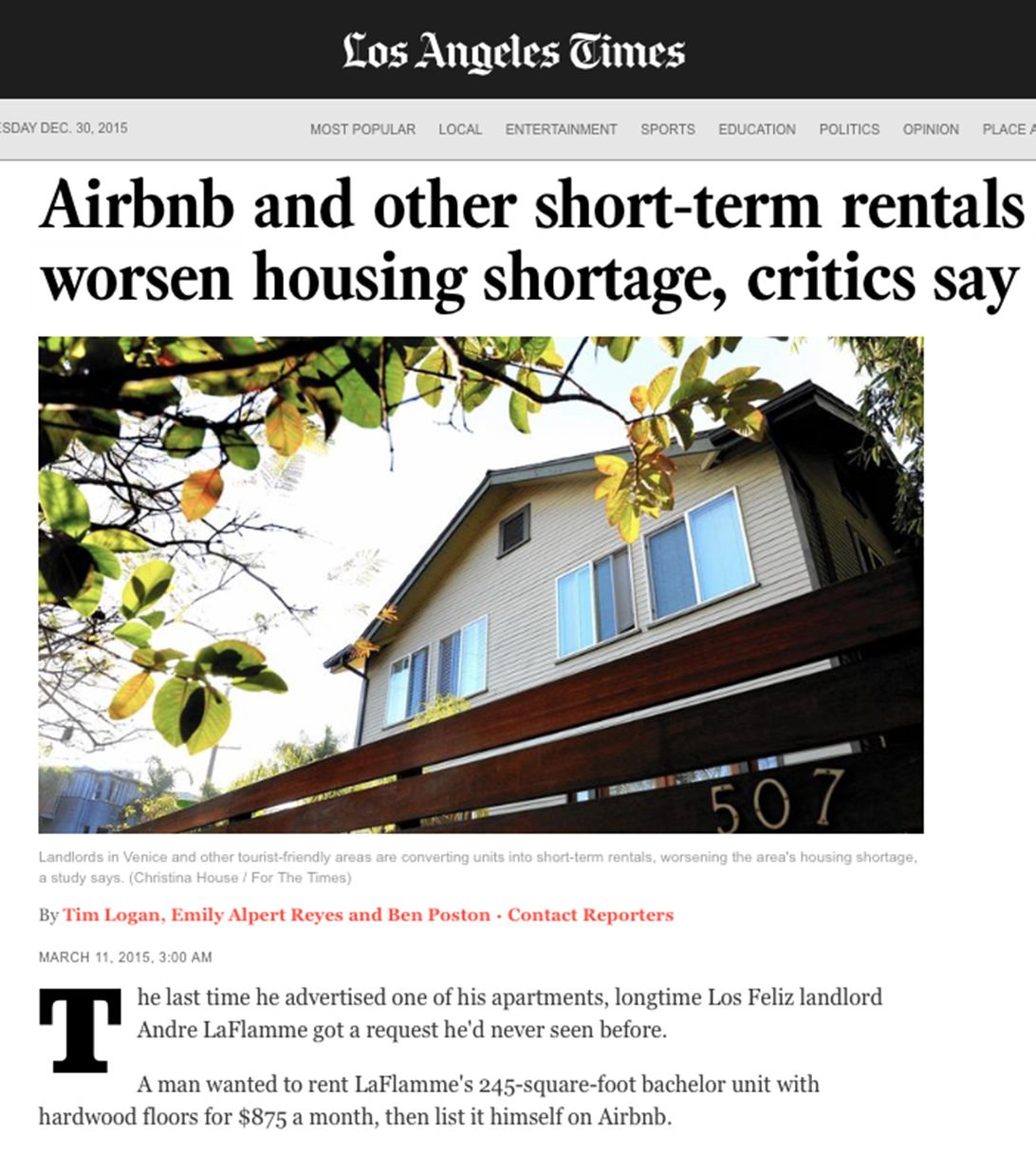 Los Angeles Times, March 11, 2015
The Effect on Housing Supply
We recently completed a study to determine the effect of short-term rentals on the housing supply of Santa Barbara City and County. We surveyed 1,660 local STR owners, with a response rate of 20 percent and a margin for statistical error of plus or minus 3.6 percentage points.
One claim of STR critics was true – a large portion (87 percent) of STR owners rented out their entire homes. It was much less common for people to rent out a spare bedroom or a couch.
However, we did not find that the supply of housing was significantly affected by the incidence of short-term rentals in the City or County of Santa Barbara. This is because (1) compared to the total size of the housing stock, there are very few STRs in Santa Barbara City and County, and (2) very few of these homes are used as STRs full-time.
The second point is especially important. We found that many of these properties are vacation homes, beach houses, second homes, etc. The owners, their offspring, their extended families, or their friends use these houses for part of the year. Consequently, they would not likely be converted to long-term housing for local residents under an STR ban.
Overall, we found that an STR ban across Santa Barbara County would increase the housing supply for local residents by only 0.1%. With this finding, we are confident that an STR ban would not have a meaningful effect on housing prices and rental rates in Santa Barbara City or County.
We would expect this outcome to be indicative of many coastal communities in California, and elsewhere.
The Effect on Neighborhood Safety
It has also been claimed that STRs make neighborhoods more dangerous. The question of safety was originally raised in a report by the Los Angeles Alliance for a New Economy.[2] In the report, the authors write about numerous complaints made to Neighborhood Councils about tourists staying in AirBnB rentals. "These complaints include unfamiliar cars blocking driveways, late night parties on formerly quiet streets, and concerns about child safety in an environment with fewer familiar eyes on the street."
To address this issue, we collected and analyzed nuisance reports across communities in Santa Barbara County, as well as areas in San Luis Obispo County and Ventura County. We found no statistically significant difference between the nuisance complaint rate for STRs and all homes in cities where data were available.
In summary, the negative allegations aimed at STRs could not be substantiated by the statistical evidence. In the absence of proof, many city councils are making strict and firm decisions to ban STR activity based mostly on innuendo. And in doing so, they are willing to forego all of the revenue benefits associated with the regulated operation of STRs.
You can download our full reports on this subject from the sample research page of our website, here:
https://californiaforecast.com/samples-of-our-research/
We anticipate that STR bans will be proposed in more cities across the nation. Since we completed the Santa Barbara study, we have received requests for similar studies in San Luis Obispo County, Orange County, and as far away as New Orleans. Before taking action, we encourage all municipalities to objectively investigate the effect of STRs on their own communities.
————————
[1] The Daily Breeze, "Redondo Beach becomes latest South Bay city to crack down on short-term rentals, March 2, 2016, by Megan Barnes.
[2] AirBnB, rising rent, and the housing crisis in Los Angeles, http://www.laane.org/wpcontent/uploads/2015/03/AirBnB-Final.pdf
---
Upcoming Presentations:
Santa Barbara Executive Roundtable
Changes Ahead in 2017: Renewed Economic Vigor or Collapsing Into Recession…?
Thursday, November 10 , 2016
8:00 am – 10:00 am
University Club
1332 Santa Barbara St.
Santa Barbara, CA
Register Now
The California Economic Forecast is an economic consulting firm that produces commentary and analysis on the U.S. and California economies. The firm specializes in economic forecasts and economic impact studies, and is available to make timely, compelling, informative and entertaining economic presentations to large or small groups.