by Mark Schniepp
August 2016
The unemployment rate for the nation remains under 5.0 percent, and has essentially reached the "full employment" level. Wages are now rising on their own accord and not due to any government mandates.
GDP growth during the first half of the year has not been stellar, rising only 1.2 percent on an annualized basis. That's a pretty poor estimate of overall growth in the U.S. economy. Yet, the economy continues to hum along with an unending record of monthly job creation, low rates of inflation, imperceptible interest rates, cheap energy, and record stock market values.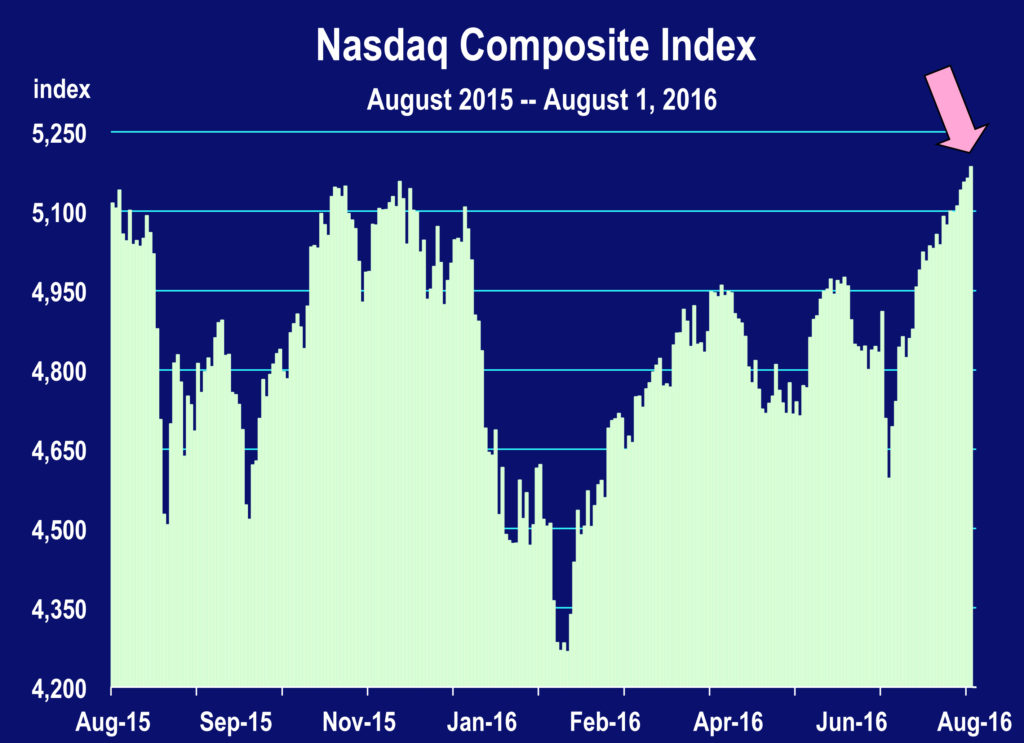 The Nasdaq Composite Stock Index closed at an all time record high on August 1, 2016.
Oil prices are sinking again. Food prices were 1.3 percent lower in June 2016 than a year ago. The general inflation rate for the first 6 months of the year is 1.0 percent. In the Southern California region, it's 1.8 percent. Higher inflation rates were originally forecast, due in large part to higher home prices and rents and slightly higher energy prices. And while we are observing higher rates of inflation in California, they are still relatively contained.
The interest rate story continues to be a dream for homeowners. The recent surge in refinance activity that we saw in June and July will produce more spendable income for households this year. Along with lower gasoline prices, consumers have more income to spend on stuff other than housing and fuel.
The U.S. dollar is strengthening again after weakening in March, April, and early May. The trend line in the value of the dollar against all other currencies has been rising since late May. Today there are nearly 19 pesos to the dollar. Last year at this time, the dollar exchanged for 15 pesos. Therefore, go to Mexico and drink tequila, cheaply.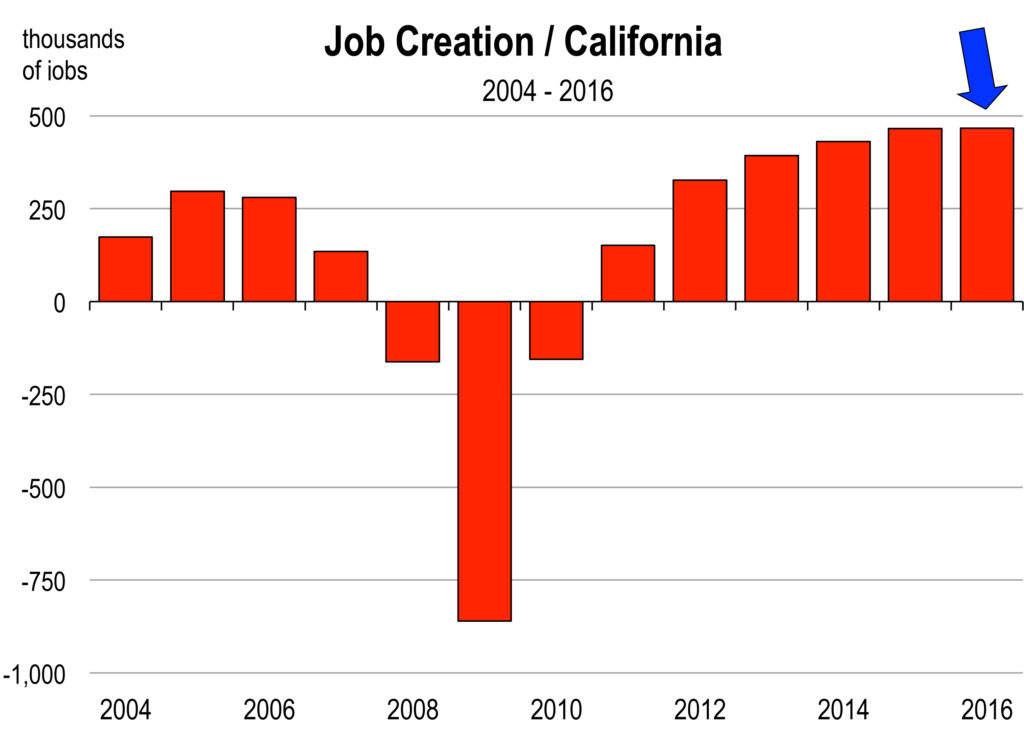 In California, 40,000 jobs were created in June. The pace of new job formation for 2016 to date will result in more than 470,000 new jobs this year, which is a remarkable accomplishment at this stage in the economic expansion.
Since February 2015, monthly job openings have outnumbered hires as the availability of work opportunities has soared.
There will be no economic slowdown as we enter the fall season and the general presidential election. And though it's always the economy stupid, it's not so much this year because the economy remains solid with few soft spots.
The most favorable markets in the country for job seekers are those areas where job openings exceed the number of unemployed workers. As of July, the ratio of the unemployed to job openings was the lowest in the following major metro areas:
| Metro Area | Ratio of Unemployed People to Job Openings |
| --- | --- |
| Salt Lake City | 0.68 |
| San Jose | 0.71 |
| Minneapolis | 0.72 |
| San Francisco | 0.77 |
| Denver | 0.77 |
| Washington, D.C. | 0.79 |
| Boston | 0.84 |
| Austin | 0.88 |
| Nashville | 0.93 |
| Seattle | 1.00 |
| Source: Conference Board, July 6, 2016 | |
So, if you are looking for a job, move to one of these areas for the highest probability of finding the job you want. There are 5 months left in 2016. Make the most of them. Now is the time to refinance your home, take a vacation, change careers, or fill up your gas tank.
_________________________________________________________
Upcoming Event

Entrepreneur Economic Forecast Conference / Los Angeles and Ventura Counties
September 8, 2016
Westlake Hyatt
7:30 am to 10:45 am
Speaker topics will include:
How long can the current expansion last?
What about interest rates and inflation?
The 2016 El Nino fizzled; can we tolerate another year of drought?
What are the recession risks going into 2017?
Is Ventura County still lagging its peers?
Has commercial real estate peaked?
The California Economic Forecast is an economic consulting firm that produces commentary and analysis on the U.S. and California economies. The firm specializes in economic forecasts and economic impact studies, and is available to make timely, compelling, informative and entertaining economic presentations to large or small groups.